Written by Dr. Jeremy Myers, Executive Director of Augsburg's Christensen Center for Vocation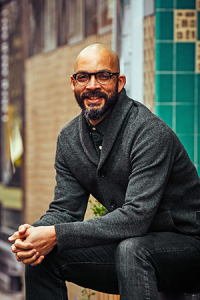 On Tuesday Oct 5, 2021, Dr. Brian Bantum gave a lecture entitled "All Things are New: The Language of Our Life in the Face of Empire" at our 2021 Bernhard M. Christensen Symposium. Dr. Bantum is the Neil F. And Ila A. Fisher Professor of Theology at Garrett-Evangelical Theological Seminary in Chicago, IL. He writes, speaks, and teaches on identity, racial imagination, creating spaces of justice, and the intersection of theology and embodiment for audiences around the United States.
He is a contributing editor of The Christian Century and is the author of "Redeeming Mulatto: A Theology of Race and Christian Hybridity," "The Death of Race: Building a New Christianity in a Racial  World,"  and  "Choosing Us: Marriage and Mutual Flourishing in a World of Difference," which he co-authored with his spouse, Gail Song Bantum. You can view a recording of his talk here.
The Power of Presence
In the face of the massive shifts we have all felt during the last two years – a global pandemic, a worsening climate crisis, the racial uprising, on-line learning/ work/ social isolation, etc. – Dr. Bantum lifts up presence as the antidote. His central claim is that presence is the fundamental organizing principle of the Christian life. Presence is a way of understanding God, God's relationship with us, and the life we are invited into. Presence is a way of finding hope and newness in the face of empire.
The power of presence, as described by Dr. Bantum, can be summarized in five simple points.
Presence always implies difference. To be present means to be with something that is not you. 

In our current state of "fallenness", we don't know what to do with difference (or diversity). But presence shows us what flourishing ought to look like. Flourishing is what happens we we are present to and aware of the difference around us as a manifestation of God's beauty and reality.

Presence is always particular. A particular God wants to be present with a particular people, a particular person.

Our particular meeting point with this particular God is in our particular bodies. The body – not the "mind" or the "heart" – is the location where God is present with us.

Therefore, presence is always a radical and political act.
Incarnation as Presence
In what was probably the most stirring segment of Dr. Bantum's talk, he explains the power of presence as embodied by Mary through the incarnation. Through presence – in Mary's body – God "transforms systemic refusals." The Word becomes flesh. The Divine becomes human. A woman becomes a priest and a preacher. Just like a priest, Mary navigates the liminal space where the spiritual and earthly realms intersect. Just like a preacher, Mary gives testimony to what God has done in her life and in the life of her community.
And Mary said,

'My soul magnifies the Lord,

and my spirit rejoices in God my Saviour,

for he has looked with favour on the lowliness of his servant.

Surely, from now on all generations will call me blessed;

for the Mighty One has done great things for me,

and holy is his name.

His mercy is for those who fear him

from generation to generation.

He has shown strength with his arm;

he has scattered the proud in the thoughts of their hearts.

He has brought down the powerful from their thrones,

and lifted up the lowly;

he has filled the hungry with good things,

and sent the rich away empty.

He has helped his servant Israel,

in remembrance of his mercy,

according to the promise he made to our ancestors,

to Abraham and to his descendants for ever.' (Luke 1:46-55)
God said, "I want to learn how to be human from you, Mary!" And from there it is the presence of Jesus' body – as learned from watching Mary's body – that does the work of redemption, liberation, and salvation. Jesus' body is present with those considered to be outcasts throughout his life. Because Jesus' embodied presence is in those places, his disciples' bodies (their presence) actually show up in those places as well. And it is in those places – in the presence – that we are transformed. In that presence . . . 
The poor in spirit inherit the kingdom of God.

The mourning are comforted.

The meek inherit the earth.

The hungry and thirsty are filled.

The merciful receive mercy.

The pure in heart see God.

The peacemakers are made children of God.

The persecuted receive the kingdom of heaven.
God's presence – in real bodies – transforms our world.
What does this mean?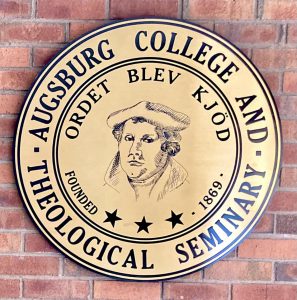 Presence – the Word becoming flesh – has always been integral to Augsburg University's mission. You will find it on the university's original seal, "ordet blev kjod". And you will find the words of John 1:14, "The Word became flesh and lived among us" immediately in front of you when you enter the Hagfors Center on campus. Augsburg University has always been wondering what it means that God is present with us and therefore what our presence with others might mean.
President Pribbenow welcomes our incoming students each by reminding them what is required of them. He calls them to show up pay attention, and do the work.
These words are an annual reminder to me as well.
How am I showing up in my daily work?
To what/ whom am I paying attention?
Am I doing the work that needs to be done?
These are the questions of presence. 
These questions echo Mary Oliver's poem Sometimes, in which she shares these instructions for living a life.
"Pay attention. Be astonished. Tell about it." 
Mary (Jesus' mother, not Oliver) showed up, paid attention, and did the work. Mary paid attention, was astonished, and told about it. God's transforming presence in Mary leads to Christ's transforming presence in our midst. This presence now frees us to be truly present with and for our neighbors in ways that are mutually transformative. We are free to flourish with our neighbors.
Augsburg University and the Christensen Center for Vocation do this work daily. We show up. We pay attention. We do the work. We are committed to helping students, faculty, staff, congregations, and ministry leaders find practical ways to be present with their neighbors.
"Our faith is about the embodiment of a God whose life is love and relationship, justice and mercy, a presence that feeds and is fed, laughs and mourns, abides with and among. In the midst of our fallen world, a world so tragically marked by race and the deadly mispronunciation of what bodies are for, Jesus is the enfleshing of God's life, the presence of God's life in our bodies, so that we might be free." (From The Death of Race: Building a New Christianity in a Racial World, by Brian Bantum)