Written by Jeremy Myers
Over lunch one day, Katie Clark was describing the process of becoming a certified foot care specialist. It was quite the feat! I was curious why she put so much work into that certification. Her response was, "Because most people who come into our Health Commons are coming in for foot care. They're on their feet all day every day and their feet are in bad shape." This epitomizes the compassion and commitment of Katie for her work and the people she serves. Katie's commitment to approaching health care through accompaniment shapes her work as an ever changing response to what the neighbors need.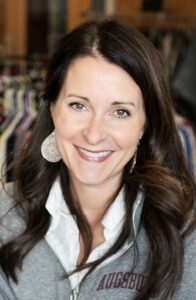 Dr. Katie Clark is a member of the nursing faculty and the Executive Director of Augsburg University's Health Commons. The Health Commons are nursing-led drop-in centers that focus on radical hospitality and building trusting relationships with people in marginalized communities.  These Health Commons are located in downtown Minneapolis, the Cedar-Riverside neighborhood, and Rochester, MN. 
Dr. Clark had extensive experience doing medical missions work overseas in Peru, Haiti, and Namibia. But those experiences never sat well with her. She would return home feeling as though she hadn't learned enough about the culture or the larger situation and context in these countries. She wondered if she and her companions were simply promoting a monoculture of healthcare and wellness rather than learning how wellness, health, illness, and care were understood in the context of these cultures. 
This uneasy feeling drew Katie to the study of transcultural nursing, the work of Dr. Paul Farmer, and the importance of social justice in the practice of nursing. You can't just treat the symptoms of a problem; you must work to end the problem. You can just waltz into someone's life with your solutions, you have to do the work of accompaniment in order to understand who they are, how they suffer, how they heal, and what they might need from you. Katie had found the way she wanted to do her work.
Under the leadership of Dr. Clark, the Augsburg Health Commons sites accompany those who are experiencing homelessness, are marginally housed, or are new immigrants who have fled wars. Their work with these neighbors is constantly evolving because the Health Commons are committed to this practice of accompaniment and mutuality, working diligently to fully humanize these neighbors while offering care. Students in Augsburg University's nursing program gain firsthand experience providing care for people through more humanizing and relational practices than what most experience in our country's healthcare system. Continue reading "Accompaniment One Foot at a Time" →