Quote from The Velveteen Rabbit by Marjery Williams
"Real isn't how you are made," said the Skin Horse. "It's a thing that happens to you. When a child loves you for a long, long time, not just to play with, but REALLY loves you, then you become Real."
"Does it hurt?" asked the Rabbit.
"Sometimes," said the Skin Horse, for he was always truthful. "When you are Real you don't mind being hurt."
"Does it happen all at once, like being wound up," he asked, "or bit by bit?"
"It doesn't happen all at once," said the Skin Horse. "You become. It takes a long time. That's why it doesn't happen often to people who break easily, or have sharp edges, or who have to be carefully kept. Generally, by the time you are Real, most of your hair has been loved off, and your eyes drop out and you get loose in the joints and very shabby. But these things don't matter at all, because once you are Real you can't be ugly, except to people who don't understand."
Reconnection
As we sink deeper into our June theme of RECONNECTION, we are excited to share the great privilege we have at Augsburg University to stay connected with incredible people like Chris Stedman (he/him/his). Chris is a 2008 graduate from Augsburg and is now a writer, activist, and professor who currently teaches in the Department of Religion and Philosophy at Augsburg University in Minneapolis, MN.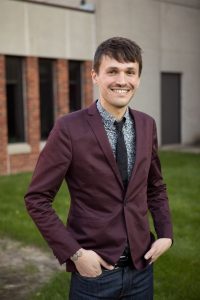 He is also the creator, writer, and host of Unread, named one of the best podcasts of 2021 by the Guardian, Vulture, HuffPost, Mashable, and the CBC. Additionally, Chris is the author of IRL (2020) and Faitheist (2012) and has written popular essays for outlets including the Atlantic, Pitchfork, BuzzFeed, VICE, and the Washington Post. Previously the founding director of the Yale Humanist Community, he also served as a humanist chaplain at Harvard University and a trainer and content developer for Interfaith Youth Core, he has most recently served as an Interfaith Fellow with the Interfaith at Augsburg center. 
In Chris' most recent book, "IRL: Finding Realness, Meaning, and Belonging in Our Digital Lives" – which will be coming out in a new edition this August – we are invited to get curious about what it means to have connected lives both in real time and online. For so long, online sharing was seen as shallow and disconnected from truth and honesty. Chris invites readers into the possibility that we can find connection in those spaces and that through that experience we might experience fuller reconnection in our real lives. 
We caught up with Chris and asked him a few questions about his book and the concept of reconnection. Thanks so much Chris for sharing your wisdom and insight.
Interview with Chris
WHAT DO THE IDEAS CONNECTION & RECONNECTION MEAN TO YOU? 
We've spent the last few years navigating what has been, for most of us, an entirely unfamiliar landscape when it comes to connection, disconnection, and reconnection. 
In the early days of the pandemic, for example, I was working from home and living alone, so for the first time in my life all of my interactions were digitally mediated. Though I'm probably more online than the average person, it's impossible to overstate what an immense shift this was. It gave me more of an appreciation for the internet's ability to connect us in unprecedented ways, but also of its limitations, and our need to not only connect but also disconnect.
Even before the pandemic arrived, we lived in an age of constant connection, where we spend more and more time on digital platforms designed to monopolize our attention. Because of this, we have to be intentional about taking a step back from them sometimes—not because life online is inherently fake or inherently harmful, as some argue, but because we need the kind of perspective we can only get when we're alone.
Continue reading "Interview with Adjunct Religion Instructor and Author: Chris Stedman" →