Quote from The Velveteen Rabbit by Marjery Williams
"Real isn't how you are made," said the Skin Horse. "It's a thing that happens to you. When a child loves you for a long, long time, not just to play with, but REALLY loves you, then you become Real."
"Does it hurt?" asked the Rabbit.
"Sometimes," said the Skin Horse, for he was always truthful. "When you are Real you don't mind being hurt."
"Does it happen all at once, like being wound up," he asked, "or bit by bit?"
"It doesn't happen all at once," said the Skin Horse. "You become. It takes a long time. That's why it doesn't happen often to people who break easily, or have sharp edges, or who have to be carefully kept. Generally, by the time you are Real, most of your hair has been loved off, and your eyes drop out and you get loose in the joints and very shabby. But these things don't matter at all, because once you are Real you can't be ugly, except to people who don't understand."
Reconnection
As we sink deeper into our June theme of RECONNECTION, we are excited to share the great privilege we have at Augsburg University to stay connected with incredible people like Chris Stedman (he/him/his). Chris is a 2008 graduate from Augsburg and is now a writer, activist, and professor who currently teaches in the Department of Religion and Philosophy at Augsburg University in Minneapolis, MN.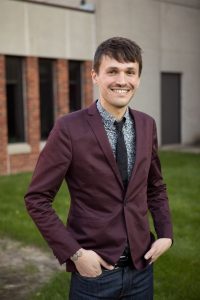 He is also the creator, writer, and host of Unread, named one of the best podcasts of 2021 by the Guardian, Vulture, HuffPost, Mashable, and the CBC. Additionally, Chris is the author of IRL (2020) and Faitheist (2012) and has written popular essays for outlets including the Atlantic, Pitchfork, BuzzFeed, VICE, and the Washington Post. Previously the founding director of the Yale Humanist Community, he also served as a humanist chaplain at Harvard University and a trainer and content developer for Interfaith Youth Core, he has most recently served as an Interfaith Fellow with the Interfaith at Augsburg center. 
In Chris' most recent book, "IRL: Finding Realness, Meaning, and Belonging in Our Digital Lives" – which will be coming out in a new edition this August – we are invited to get curious about what it means to have connected lives both in real time and online. For so long, online sharing was seen as shallow and disconnected from truth and honesty. Chris invites readers into the possibility that we can find connection in those spaces and that through that experience we might experience fuller reconnection in our real lives. 
We caught up with Chris and asked him a few questions about his book and the concept of reconnection. Thanks so much Chris for sharing your wisdom and insight.
Interview with Chris
WHAT DO THE IDEAS CONNECTION & RECONNECTION MEAN TO YOU? 
We've spent the last few years navigating what has been, for most of us, an entirely unfamiliar landscape when it comes to connection, disconnection, and reconnection. 
In the early days of the pandemic, for example, I was working from home and living alone, so for the first time in my life all of my interactions were digitally mediated. Though I'm probably more online than the average person, it's impossible to overstate what an immense shift this was. It gave me more of an appreciation for the internet's ability to connect us in unprecedented ways, but also of its limitations, and our need to not only connect but also disconnect.
Even before the pandemic arrived, we lived in an age of constant connection, where we spend more and more time on digital platforms designed to monopolize our attention. Because of this, we have to be intentional about taking a step back from them sometimes—not because life online is inherently fake or inherently harmful, as some argue, but because we need the kind of perspective we can only get when we're alone.
When I was growing up, I did not have regular internet access. I would only ever go online for a moment at school, or when I'd bike to the local library. Even into adulthood, my time online was much more of a set-apart activity. I didn't have a laptop until I was out of college, or a smartphone until after grad school, when I was in my first job. Before I had a smartphone, disconnection was my norm. I spent a lot of time alone, with my own thoughts, bored. The act of connecting required intention and effort. That connection was a lifeline sometimes; the internet was where I first came out to anyone as queer, for example. But I also needed those moments of disconnection and boredom to let my mind wander and imagine. Now, connection—at least a certain kind—is constantly at my fingertips. Which means I have to make an effort to get the disconnection I need. In short, connection has become easier to find, and disconnection more important to seek out.
This doesn't mean, of course, that disconnection is better than connection. The Catholic thinker Thomas Merton offers a great example. Though he once thought he would live as a religious hermit, he instead realized that for him the whole point of going on retreat was to give him the perspective he needed in order to re-enter the world. Similarly, I once took a three month social media sabbatical. At one point in my break, the stresses of online life began to fade away and I found myself feeling so much more at ease than usual, which would seem to confirm the negative perspectives many people offer on how the internet connects us. But those stresses faded away because I was on a retreat, disconnected from the struggles of the world. We need those moments to clear our head, to take time to disconnect from the world and connect with ourselves and whatever our sense of spirituality might be. Fortunately, the retreat gave me just the perspective I needed to reconnect and re-engage with a world that is now more connected than ever.
WHILE YOU DO NOT IDENTIFY AS CHRISTIAN, YOU ARE A RELIGION PROFESSOR AT A LUTHERAN SCHOOL; WE'RE CURIOUS WHAT YOU MEAN WHEN YOU SAY YOU WERE SHAPED BY LUTHERAN VALUES. TELL US MORE ABOUT WHAT THAT MEANS FOR YOU.
I consider myself "Lutheran shaped," in a very literal sense—I spent many of my formative years in Lutheran institutions, including when I was studying religion as an undergraduate student at Augsburg. Though I don't identify as Lutheran, the Lutheran tradition definitely influences the kinds of questions I ask and how I ask them. Fortunately, I believe that all of us, no matter how we identify religiously or not, can benefit from learning from and about other traditions, just as I have from Lutheranism.
I sometimes joke that I'm a "Bonhoeffer atheist," though I suppose it's really not a joke. What I mean by that is this: Dietrich Bonhoeffer, a Lutheran theologian who has influenced a lot of how I see the world, argued that Christians have a responsibility to live as if there is no God. In other words, he thought that Christians shouldn't expect God to intervene in the face of injustice for them. Rather, they should act on God's behalf in the world as justice agents. 
I may not believe in a higher power, but I do believe in the importance of living in the as if way Bonhoeffer argued for. I believe in the importance of discerning what our responsibility is to the world around us instead, and acting on that responsibility. This work inevitably calls us into conversation and collaboration with one another; it means we must cooperate across lines of religious difference for justice. Which is why so much of my writing over the years has been about the value of working shoulder to shoulder with Christians and others for the common good.
The class I now teach at Augsburg is on vocation—a concept with deep roots in the Lutheran tradition, but that has resonances in all traditions and among secular humanists like me, too. We often talk about vocation as a kind of intersection, between your particular passions and values and the needs of the world around you. Lutheran ideas and institutions have played a large role in helping me find my own intersection.
YOUR MOST RECENT BOOK, "IRL: FINDING REALNESS, MEANING, AND BELONGING IN OUR DIGITAL LIVES" WAS RELEASED IN 2020. TELL US WHY THIS STORY IS IMPORTANT FOR OUR LIVES NOW.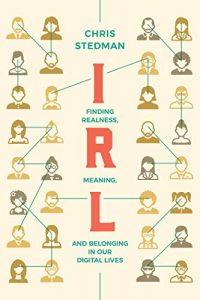 I had no idea while writing IRL just how relevant it would come to feel by the time it came out. I finished it in December 2019, just months before the pandemic hit the United States and forced many of us to move a great deal of our lives to digital space. But even before the pandemic, more and more of us were using the internet to connect with the world around us, to narrate our lives, and to find a sense of meaning and community. I wanted to understand how using this new tool for these age-old human projects—projects religious traditions concern themselves with—was impacting us. 
I think many of our online lives aren't particularly considered ones, though it's often not our fault; the platforms we use are actually designed to move us in more mindless directions, because mindless use keeps us clicking and scrolling. Which is why it's all the more important to think about how we're living in digital space. My hope in writing IRL was that it could be a tool for people who wish to do so.
The phrase "in real life"—introduced as a way of distinguishing the activity of going online from the project of living life—once made sense. But for many of us, it no longer does. Going online is no longer just an activity. The internet is a space where many of us do things that are centrally connected to how we understand ourselves and locate a sense of meaning and belonging. Where we live our lives. We should treat it as if it is as real as any other part of our lives, bringing the same Bonhoeffer-style discernment to how we show up there that we bring to our offline activities.
THE VELVETEEN RABBIT QUOTE IS A THEME IN YOUR BOOK (WE LOVE IT!). CAN YOU TELL US WHAT THIS MEANS TO YOU?
The Velveteen Rabbit was my favorite story as a child. It's the tale of a rabbit who wants more than anything to become "real." As a child I took a very literal interpretation of it—the central character wants to go from toy rabbit to living, breathing rabbit. But as an adult I returned to the story and discovered it wasn't as straightforward as I once thought. It actually raises all kinds of questions about what "real" means in the first place. Which made it feel like the perfect entry point for IRL, a book that asks what it means to be "real" in a time when so much of life happens online, a space we've long cast as less-real or even fake. 
Part of that feeling about digital life comes, I think, from the pressure many of us feel online to not let our messy seams show. But as the Velveteen Rabbit reminds us, our rough edges are actually a big part of what makes us who we are—and sharing them with trusted others is part of how we become known and loved.
THERE IS SO MUCH PARADOX IN YOUR WRITING, AT LEAST THE INVITATION TO YOUR READERS THAT THERE IS LOVE AND HURT ONLINE, THAT WE HAVE ONLINE AND OFFLINE LIVES, OR WE CAN CHOOSE VULNERABILITY IN A DIGITAL SPACE THAT SEEMS UNKNOWN. CAN YOU SAY MORE ABOUT YOUR THEOLOGICAL UNDERSTANDING OF PARADOX?
It's in the messy, contradictory, in-between spaces that we often learn the most about ourselves and others. For example, we are in the middle of a massive cultural shift right now, from a pre-digital age to a digital one, and it's changing our understanding of who we are and what it means to connect and disconnect. These periods of immense cultural change can be profoundly difficult, but they're also moments where we're forced to ask ourselves what truly matters to us. 
I write near the end of IRL about haloclines, places in the ocean where saltwater and freshwater meet. They're unlike anywhere else on earth; for example, there are certain species that only live in haloclines. In some ways, the internet is like a halocline—it's a transitional space, a place where the online and offline meet, a place that sits between what we've known and what we've yet to discover, a place where paradox flourishes. This transitional moment, as we move from pre-digital living to a life that is lived both digitally and offline, is like that, too. Which may make it the perfect time and space to ask ourselves important questions about who we are and what matters to us.
Paradox, contradiction—these are the places I run to when I discover them in myself and in the world around me. Because they're the places that have consistently challenged and taught me the most.
WHAT ADVICE DO YOU HAVE FOR HIGH SCHOOL AND COLLEGE AGE YOUTH REGARDING THE POSSIBILITIES FOR FINDING REALNESS, MEANING, AND BELONGING IN OUR DIGITAL LIVES?
Intention is everything. There was a very useful longitudinal study I came across while writing IRL that found two people could spend the same amount of time on the internet and have radically different experiences, which contradicts the common line of thinking that spending more time online will inevitably make us feel less happy, less like ourselves. In the study, it all came down to how intentional the user was being about their digital habits. People who identified the needs they were trying to meet by going online were better able to then meet those needs, instead of feeling sucked into algorithms that end up making them feel they're just wasting time. Of course, as long as our digital platforms are run by for-profit corporations, we will be swimming upstream in this respect. But we can still swim.
Our habits make us who we are. We are what we do day in and day out. At their best, religious traditions help us intentionally re-orient ourselves to our values by giving us tools—rituals, communities, texts, ideas—that help us reconnect with ourselves and the world around us. Through these habits, we remind ourselves who we are and who we are trying to be, which helps us live those things out. Our online habits are no exception to this. But we need to bring the same intention to our digital rituals that religious traditions often offer us.
These days, when I'm online, I try to ask myself the same kinds of questions my religion professors asked me when I was an undergraduate student at Augsburg: why am I interested in this? What does this mean to me? What am I hoping to get from this? What values are at play here, and do they align with my own? These are the kinds of questions that can help us connect and reconnect with a better understanding of who we are, and from that understanding develop meaningful ways of connecting with the world around us, too.
The CCV and AYTI staff encourage you to find ways for RECONNECTION in the month of June!