This week's story is written by Stephen Richards, a congregational learning partner at St. Luke's Episcopal Church. Steve writes about his transformation throughout the process of practicing the Public Church Framework. 
Ever had an argument in the car with your partner about the "right way" to get somewhere? My wife and I frequently have such "debates", and it often boils down to this: she likes to plan how to get somewhere in advance, whereas I'm more of a "wing-it" guy. She likes to pre-navigate potential traffic snarls and find the most economical route to get somewhere, whereas I know where I need to go, have a vague idea of how to get there, and if there are any holdups along the way I'll navigate my way around them based on what looks like the best option at the time. Needless to say, my wife and I often find driving together a frustrating experience.
This past year, working with the Riverside Innovation Hub has felt a lot like driving with my wife. When St Luke's first started this journey and I was invited to be part of the team, I was excited about the idea of working to get more young people to come to church. Of course I wanted more young people coming to church; I wanted lots of people to come to church. However, I quickly began to realize that this was not the point. So I pushed back. If this is not about getting people into church, then what is it about? I remember regularly expressing a sense of frustration to our coach that I simply had no idea what we were trying to achieve. The "goal" was to find ways to connect with young adults in our community, but how to do that and what that might look like was opaque. "So what" and "What next" questions dominated my thinking. I found the process frustrating. I wanted a road map. I wanted a planned route from Point A to Point B. The trouble is, that's not the way this works. You see, when you start asking "What is God up to in our community?" you're heading into uncharted territory. 
For too long I'd been looking for God inside the church building, and many "solutions" for how to address the dearth of young adults in our churches often begin there. If only our services were more exciting, if only we had better programming and the like. Using such reasoning we also talk about how God is or is not working in our midst. More people in church equals God is working, and vice versa. But instead, we were told to reflect on Ezekiel's vision of the river flowing from the temple, and imagine this flowing out into our community. I liked the image, but continued to push back. I made the point that if the river was flowing from the temple then surely this means the river is flowing out from our church building? Our coach patiently allowed me to navigate my way through this. 
When I joined this project I thought it was about connecting young adults to God in church. However, as we began to follow the river (both inside and outside of our community), I suddenly realized that it was about a different kind of connecting. In fact, it was me who was connecting with God as I began to realize my entire understanding of mission had been grounded in the notion that there was nothing of God going on outside "in the world." Sitting inside a church building, I'd been staring at the walls wondering why more people weren't inside with us, rather than going outside and asking them. The walls were preventing me from engaging with people. They were a physical barrier between our community and our neighbors. Whereas the veil separating us from God had been torn down in Christ, and in the years since then we had been physically and theologically putting it back up.
As we walked the three art forms, I became to see where God is at work outside the church. I should not have been surprised, because God is always at work everywhere! How do I know this? Because God is everywhere. There is no place where God is not:
"Where can I go from your Spirit? Where can I flee from your presence? If I go up to the heavens, you are there; if I make my bed in the depths, you are there" (Psalm 139:7-8).
Once I began to realize that church is not the Ground Zero, the modus operandi of God's activity in any community, I began to realize that the roadmap of mission I had been using had been leading me away from young adults; leading me further inside the church building (where they are not), instead of outside and into our neighborhood (where they are).
As we continued with Interpretation and Discernment work, I sensed that not only I had changed, but the team had also had a transformation. Our focus had shifted. We had begun to dream and imagine how we might go and meet people, rather than sitting in church waiting for them to come to us. Jesus told us to "Go," and we were going. We began to look at ways we were already connecting with our neighbors; the Montessori School in our church building was an obvious one, but also the green space out front. We learned that people were using the chairs we had placed out there, they were tying ribbons to the Peace Pole and using the food box. We decided to focus on that as space as a place where God was present; Holy ground where we could start wading into the river.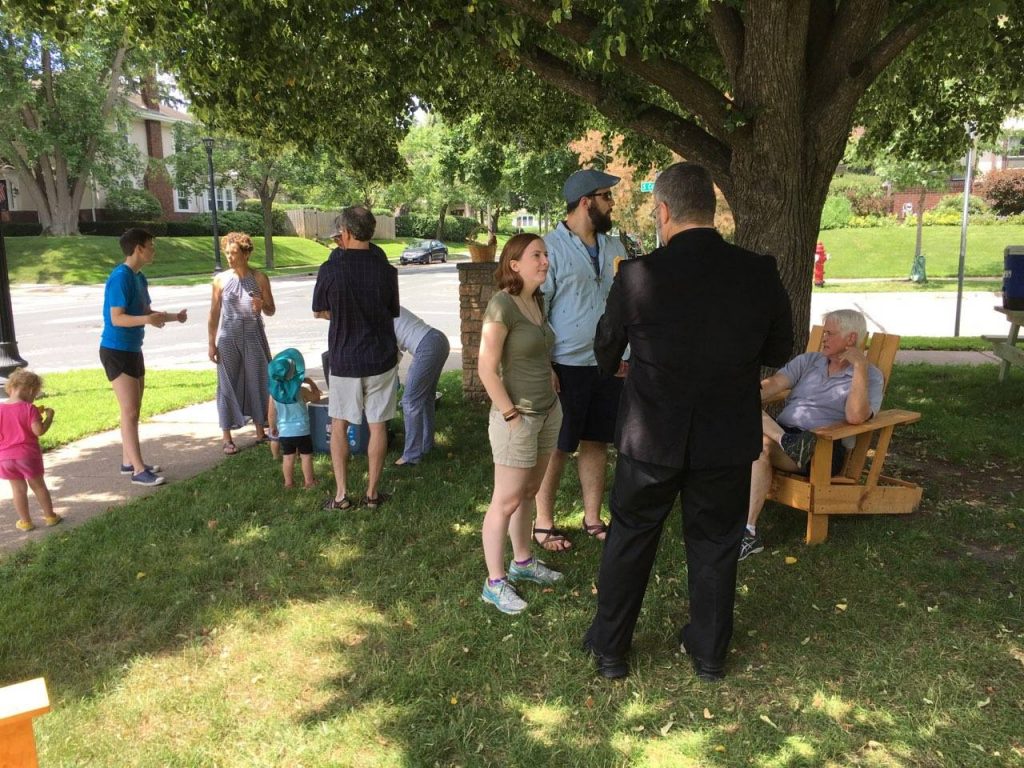 And so we began. It was the start of summer and one of our team suggested we might offer people free ice cream after church on Sunday. So we did. We named it Ice Cream Sunday. For three months we stood outside the church eating ice cream, and inviting our neighbors to join us. In doing so we met lots of people and got to know their stories. We got to tell them our stories, but we never used this as a recruitment tool; just a way of showing love to those around us, you know, doing the very thing Jesus told us to do (Matthew 2:39). And as we did this week after week, relationships began to form. Barriers came down. We began to wade into the river; first ankle deep, then knee deep and finally waist deep. Some people came back just to hang out with us; people who had never stepped inside our church building. And as we listened to their stories we realized that God was at work in their lives and in our community. In fact, God had always been working in our community, we'd just never taken the time to go outside and listen. But now we were outside, and listening, and starting to see the walls come down. We'd torn up the roadmap, and with the Spirit's leading had started to "wing-it"…