In the Christensen Center for Vocation, our staff team equips and accompanies students, staff, faculty, and ministry leaders as they engage in place-based vocational discernment in the public square for the common good. One of the initiatives that lives this mission is the Augsburg Youth Theology Institute (AYTI). 
THE BEGINNING…
The first version of what is known now as AYTI, began in 2009 when Augsburg University received its first Youth Theology Network grant from the Lilly Endowment. With over 100 schools across the country leading theological education and vocational discernment experiences for high school students, we are grateful to hold this history of commitment to vocational discernment with young people. 
TODAY…
And today, the Augsburg Youth Theology Institute (AYTI) is an annual summer program for high school students (9th-12th grades). This experience aims to offer young leaders an opportunity for place-based vocational discernment around a theological and leadership focused theme. Students who attend AYTI take their questions and curiosity to the public square to learn, listen, pray, and play on the Augsburg campus, in the neighborhood, and in the city. Participants engage in daily reflection with a theologian, community based learning, small group relationship building, and worship. This commitment to wonder about how God is calling us to the common good for the sake of the world, is the reason why high school students leave AYTI inspired to be God's hands and feet in the world. 
THE INSTITUTE…
On the ground, AYTI is a place where staff and college mentors work diligently to create an inclusive and welcoming space for high school students to get really curious about all their big questions about God. And these days, and especially in these last few pandemic filled years, our young people have had a lot of big questions about God, the church and our call to be neighbor, racial injustice and how they should respond, mental health needs and the struggle to connect, a sense that they don't belong, death and dying, health and living. 
We are so grateful to be a community that welcomes these kinds of theological questions! 
AYTI is a community that makes claims about God – we live our theology. 

AYTI is a community that believes our vocation is to love and serve our neighbor. And we actively do that at the Institute.

AYTI is a community that acknowledges racial injustices, particularly for black people as a result of white supremacy, and works to dismantle these systems in the small and significant ways we can.

AYTI is a community that acknowledges individuals struggles to show up in places and spaces that do not accept them, and we strive to create an environment that 

AYTI is a community that is welcoming and affirming for all people, regardless of their gender expression, gender identity, and sexual orientation. 

AYTI is a community that believes we are made in God's image to love and be loved! 
COVENANTS OF PRESENCE…
During the Institute, our college mentors and participants agree to show up and abide by the Covenants of Presence as listed below. In all that we do: worship, classroom learning, community engagement, small groups, devotions and more, we agree to these commitments. These are some of the expectations participants can have when they show up for the AYTI.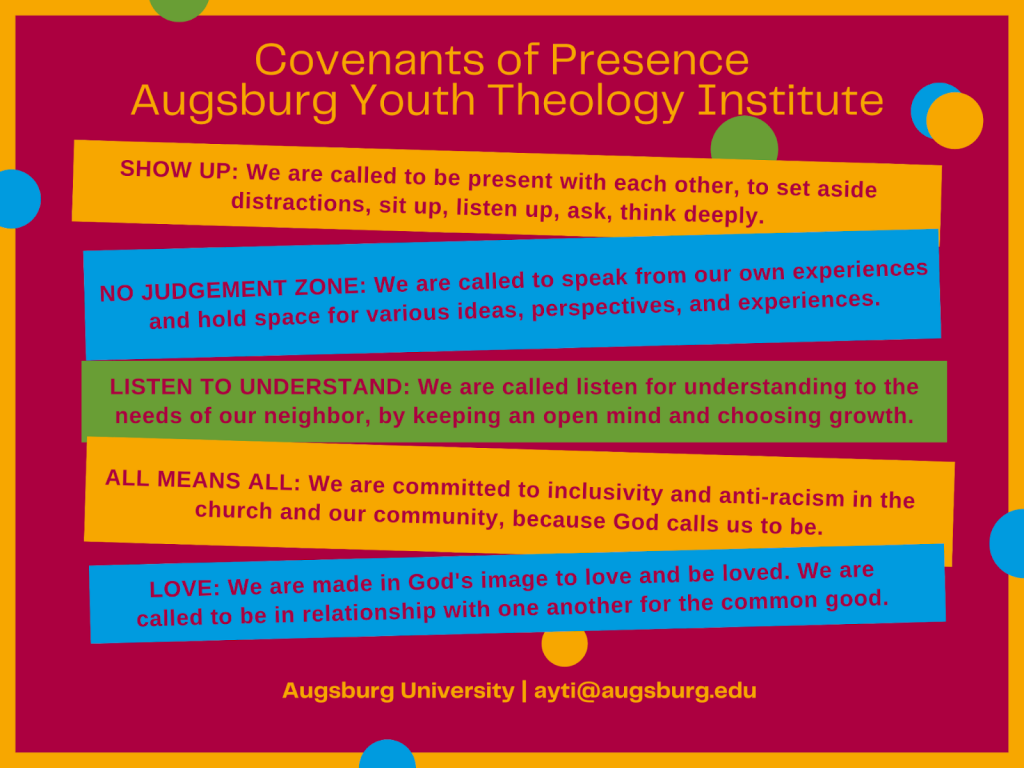 WHAT DO YOUR YOUTH NEED?
Are you a pastor or youth director in the midst of all the changes the pandemic has brought? Are your high school students asking these questions but not showing up? Are you wondering what is next? 
Do you just need a good meal and a listening ear? Adrienne, the AYTI program director, is eager to buy you a meal and lend a listening ear. Will you say yes to this accompaniment? Please send us an email and we'll schedule a time! ayti@augsburg.edu