Serving as a steward of the University's mission and identity and pursuing directions set by the Christensen legacy, the Christensen Center for Vocation develops partnerships between faith communities and the Augsburg University community in order to:
Help faith communities partner in God's redemptive work in their neighborhoods

Create opportunities for students, faculty, and staff to learn about vocation by being part of place-based vocational discernment

Learn from congregations, students and faculty as they do this work.

Augsburg Youth Theology Institute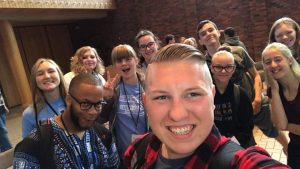 Through these initiatives and other work, we have several paid leadership opportunities for Augsburg students including CCV student workers, AYTI mentors, and internship opportunities. CCV is also committed to exploring ways our external learning partners can provide meaningful learning contexts for students related to their studies and degree requirements. Contact us to learn more about ways students can participate in the work of CCV.