October 26, 2017 at Gustavus Adolphus College
A day to connect, reflect, and explore theological graduate study options.
Students of all denominations welcome! Representatives from up to 22 seminary and divinity schools will be present. 
REGISTER by October 20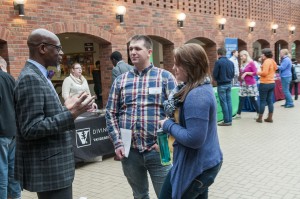 This event is free, and lunch and transportation to Gustavus Adolphus College will be provided to those who register. We will leave Augsburg at 8:00 am and return around 4:00 pm.
Theme: "I am your Servant, Give me Discernment"  -Psalm 119:125
Discernment is a journey that begins with a still small whisper or sense of God's call upon one's life. As children of God we cannot ignore it when we feel our creator tugging at our heart, but that does not mean we have to walk alone on this path. It is God's goods pleasure that we should have discernment and enjoy the company of fellow seekers as we journey forward together.
Schedule for October 26, 2017
8:00 AM                  Depart Augsburg University for Gustavus Adolphus
9:30 AM                  Registration
10:00-10:20 AM      Daily Chapel
10:30 – 11:30 AM   Welcome, Introductions, Vocational Reflection Conversation
11:30-1:55 PM        Table Talk Time, with Lunch Buffet Open from 12:30-1:30PM
2:15 – 2:30 PM       Sending Session and Blessing, depart for Augsburg
Arrive at Augsburg University by 4:00 PM
See the list of 18 Seminary and Divinity Schools that represented at Augsburg in 2016.
---
Seminary and Divinity Day is a collaboration between the Christensen Center for Vocation at Augsburg University and Gustavus Adolphus College.
If you have questions, contact Emily Glaser at ccv@augsburg.edu or Lonna Field at fieldl@augsburg.edu or 612-330-1467.