We connected with Shevon Greene, a Communication Studies, Film, and New Media department alum. Shevon graduated in 2021 with a degree in Communication Studies. She has answered several questions letting us know about her experience at Augsburg and what she is doing now.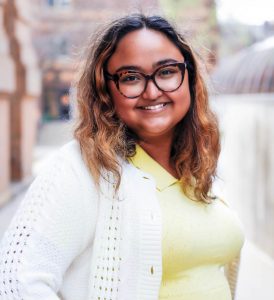 Tell us a bit about yourself. 
"I was born and raised in Minneapolis and have lived in the metro area for most of my life. I still reside in Minneapolis on the outskirts of downtown. I love the creative side of communications, advertising and content creation, I have a passion for DEI  [Diversity, Equity, and Inclusion] and a fun fact about me is that I adopted a hedgehog a couple years ago."
What are you doing now?
"After being a college intern with Xcel Energy for 3 years within HR and Communications departments, I was offered a job as a Brand Assistant in the Ad & Brand department. My job is essentially being a brand champion, which means being an expert in the brand standards and guidelines and encouraging that within the company, ensuring that all communications and ads are up to brand standard, and I also assist in content creation and writing for various ads on behalf of Xcel Energy." 
How are you using what you studied in the Department of Communication Studies, Film, and New Media Studies in your current job? What helped prepare you for your current job?
"Two classes that instantly come to mind are Interpersonal Communication and Intercultural Communication. I remember learning about Interpersonal Communication, specifically about different cues in both verbal and nonverbal communication, and seeing that in the workplace now has been insightful. Intercultural Communication was also a great class to take, especially for the workplace when you are communicating and collaborating with different people who have their own ways of communication based on how they were raised or what their customs are. "
What advice do you have for current students majoring in Communication Studies, Film, and/or New Media Studies?
"Enjoy the classes while you still have them because I miss them a lot and I'm grateful that I learned so much from them. Also, don't feel pressured to know exactly what you want to do with your career right away. Just live in the moment and take in the learning experiences." 
Are there any projects you're currently working on that you'd like to share with us?
"Currently I am helping lead on the steering committee of Xcel Energy's first Asian American Pacific Islander Business Resource Group as the Communications & Branding Director."