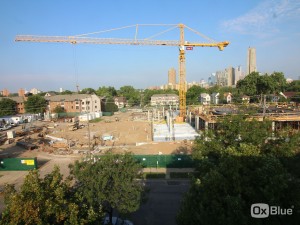 Construction on the Norman and Evangeline Hagfors Center for Science, Business, and Religion is now at the three month mark. The basement and ground-level slabs are near completion, and construction crews are completing the formwork in preparation for the second-floor concrete pour. (See the photo in this post from Monday, August 1.)
CONSTRUCTION SITE WORK
Finishing the ground-level slab. This week, construction crews will be pouring the remainder of the main lobby floor–the last of the ground-level slab for the building. No parking restrictions are anticipated for this work.
Footing work. Additional concrete work will continue this week for the footings, but this work also does not require parking restrictions around the construction site.
Preparation for second-floor concrete pours the week of August 8. Formwork installation continues this week for the second-story floor. No large concrete pours are scheduled this week, but are expected to begin early during the week of August 8. Large concrete pours, when they happen, will involve closing the parking along 21st Avenue South between South 7th and South 8th streets to allow for staging trucks in the area to enable a consistent concrete supply for each pour. Watch Amail and street signage for future parking restriction information as concrete pours are scheduled in subsequent weeks.
Utility pole removal. The utility poles along 21st Avenue South are expected to be removed within the next few weeks. Once the utility poles are removed, crews will proceed with the planned tree removal on the construction site. The City of Minneapolis-approved plan includes the removal of four trees along South 6th Street and the street trees on the west side of 21st Avenue South. These will be replaced during the summer of 2017 with seven new 3-inch oaks along South 6th Street and nine new street trees along 21st Avenue South.
Security lighting. Removal of the utility poles will also remove the city street lighting attached to them, so Augsburg will install and maintain security lighting on the construction site for the duration of the project.
UTILITY WORK WEST OF OREN GATEWAY CENTER
The utility work on the west side of Oren Gateway Center to relocate the electrical service is expected to finish in conjunction with the power and utility pole removal along 21st Avenue South. Sidewalk closures and parking restrictions may continue on 21st Avenue South until that work is complete.
As with any major construction project, weekly work activities may be affected by weather, crew availability, project sequencing, and other factors. Please watch Amail for any changed activities that may impact the campus community.