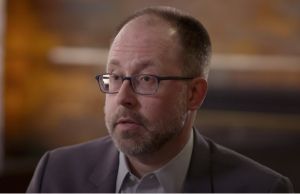 Augsburg Department of History Chair Michael Lansing was interviewed for Minnesota Experience's first-ever episode of "Flour Power," a new weekly history series from TPT – Twin Cities PBS.
The episode, which premiered September 17, explored the impact that Minnesota's milling history had on the carbohydrates we consume every day worldwide.
Stream the full episode at the TPT – Twin Cities PBS website.
Earlier in September, Lansing was featured in "The Rise and Fall of the Nonpartisan League," a documentary series from Prairie Public Television (North Dakota). In 2015, Lansing published his book Insurgent Democracy: The Nonpartisan League in North American Politics, then served as an advisor for the series.