On fall First-year move in day and Upper Class student move in day, Residence Life staff and students from various groups on campus will be present to assist you as you move your belongings on to campus. As move in day is one with a great deal of pedestrian and vehicular traffic, we ask that you please be patient throughout the process.
Please arrive with both a driver and someone who is able to unload a vehicle into your new space (we will help) because parking is limited and to be efficient, we ask that vehicles not stay parked near entrances after being emptied of belongings.
We're so excited to have you on campus!
Spring 2020 Move In
First Year and Transfer Move in: January 9, 2020 2-4 pm
Fall 2019 Move In
First Year: Friday, August 30, 2019 (time sent via email)
Returner: Friday, August 23, 2019 2-4pm
Transfer: Friday August 23, 2019 2-4pm
Key Pick-Up
You must complete the online Emergency Contact Information form. Please log on to Augnet using your username and password on (Inside.augsburg.edu). Click on "Records and Registration," which will direct you to a new page where you must click on "Student Information/Contact." You can find it at Records and Registration/Student Information/Contacts.
ASSESSING THE CONDITION OF YOUR ROOM
Every resident will assess the condition of their room by filling out a Room Condition Report.
Steps to take:
Only fill out the left column
Indicate which interior room you are inhabiting (if applicable)
Return the completed form to the Residence Life Office within 10 days of move in
This will be the official record of the condition of the space upon move in.  Residence Life will use this form to assess damages after the resident has moved out.
Print and Complete the Room Condition Report that applies to your on campus space:
Frequently Asked Questions
May I move-in early?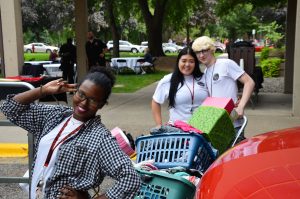 If you wish to move on to campus earlier than your assigned move-in date in the fall, or if you wish to stay on campus later than your assigned move-out date in the spring, please complete the Early Arrival / Late Stay Request Form.
A Residence Life staff member will then get in touch with you about your request.
What if I can't make my move-in date/time?
Anyone who can not make their move-in date may move in on any following date during office hours (10:00 a.m.-4:00 p.m. Monday-Friday prior to classes beginning, 9:00 a.m. – 8:00 p.m. M-F once class is in session) from the Residence Life Main Office, located in the Urness/Mortensen Lobby.
When is the Residence Life Main office open?
The Residence Life Main Office located in the Urness/Mortensen Lobby is open Monday – Friday 9:00 a.m. – 8:00 p.m. when classes are in session.
Professional staff are available by appointment.
I want to send something to campus before I arrive…
Please contact Shipping & Receiving at 612.330.1750.
First Year Students – what should you bring?
For tips on what to bring, what to leave home, and other questions incoming First Year students may have, see the First Year Residential Experience Guide
Bedding and linen program
Augsburg University offers residence hall bedding and linens through College-Ave. Students at Augsburg University require specially-sized sheets, blankets and comforters to fit the campus' extra long mattresses. These extra-long beds (longer than 76 inches) are intended to maximize the comfort levels of every student. Our goal each year is to make sure students and parents have the right size residence hall bedding for move-in. XL sheets are more difficult to find, so we provide a variety of custom-sized linens sure to fit and guaranteed to last until graduation. We also have a large selection of extra-long comforters, extra-long mattress pads, extra-long thermal blankets, pillows, storage solutions and anything else you might need for your new room.
GUARANTEE YOUR FIRST CHOICE
We recommend that parents and students respond early, in order to have the widest selection of college bedding and make sure their first choice pattern is available. All of our residence hall room bedding and accessories come with hassle free returns and a guarantee of satisfaction. If for any reason you are unhappy with our linens, simply return your bedding for a full refund.
TESTIMONIALS
"I had a fantastic experience with this site. They had just what I was looking for!"
– Kellie W.
"Great selection on bedding/comforters. Good quality."
– Sara
"I got a discount comforter and the checkout process was easy."
– Kristen