On fall First-year move in day and Upper Class student move in day, Residence Life staff and students from various groups on campus will be present to assist you as you move your belongings on to campus. As move in day is one with a great deal of pedestrian and vehicular traffic, we ask that you please be patient throughout the process.
Please arrive with both a driver and someone who is able to unload a vehicle into your new space (we will help) because parking is limited and to be efficient, we ask that vehicles not stay parked near entrances after being emptied of belongings.
We're so excited to have you on campus!
Fall 2020 Move In
First Year: Friday, August 28, 2020 (time sent via email)
Returner: Friday, August 21, 2020 2-4pm
Transfer: Friday August 21, 2020 2-4pm
Key Pick-Up
First year move in day: you will be directed to your key pickup location as you follow the move in route listed above.
Returner and transfer move in: keys are available in the Residence Life Office located in the Urness/Mortensen lobby.
Make sure you do the following things when picking up your keys:
Bring your student ID
Complete the Emergency Contact Information form prior to picking up keys. Please see our Emergency Information page for instructions on how to complete this.
Assessing the Condition of Your Room
Every resident will assess the condition of their room by filling out a Room Condition Report.
Steps to take:
Only fill out the left column
Indicate which interior room you are inhabiting (if applicable)
Return the completed form to the Residence Life Office within 10 days of move in
This will be the official record of the condition of the space upon move in.  Residence Life will use this form to assess damages after the resident has moved out.
Print and Complete the Room Condition Report that applies to your on campus space:
Frequently Asked Questions
May I move-in early?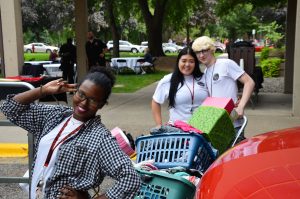 If you wish to move on to campus earlier than your assigned move-in date in the fall, or if you wish to stay on campus later than your assigned move-out date in the spring, please complete the Early Arrival / Late Stay Request Form.
A Residence Life staff member will then get in touch with you about your request.
What if I can't make my move-in date/time?
Anyone who can not make their move-in date may move in on any following date during office hours (10:00 a.m.-4:00 p.m. Monday-Friday prior to classes beginning, 9:00 a.m. – 8:00 p.m. M-F once class is in session) from the Residence Life Main Office, located in the Urness/Mortensen Lobby.
When is the Residence Life Main office open?
The Residence Life Main Office located in the Urness/Mortensen Lobby is open Monday – Friday 9:00 a.m. – 8:00 p.m. when classes are in session.
Professional staff are available by appointment.
I want to send something to campus before I arrive…
Please contact Shipping & Receiving at 612.330.1750.
First Year Students – what should you bring?
For tips on what to bring, what to leave home, and other questions incoming First Year students may have, see the First Year Residential Experience Guide