VACANT
612.330.1526
Office Location: Mortensen Hall 19
---
LizziE Barry (she/her/hers)
Assistant Director of Residence Life
612.330.1526
Office Location: Urness / Mortensen Lobby 6
Elizabeth "Lizzie" Barry earned her Bachelor of Science in Communication Arts and Literature Education from Minnesota State University, Mankato, and her Master of Arts in Educational Leadership with an emphasis in Higher Education Administration from the University of Nevada, Reno. Before Augsburg, she spent time as a Resident Director and Coordinator for Support Operations at Nevada as well as an Area Coordinator at Gustavus Adolphus College.
As the Assistant Director of Residence Life, Lizzie manages all community development efforts in the department. This includes overseeing the residential curriculum and programming model as well as supporting the success of the student staff by recruiting, training, and providing ongoing leadership opportunities. She supervises Area Coordinators and supports the department's mission to provide respectful, responsible, and resourceful living communities.
Outside of her role, Lizzie enjoys traveling, escape rooms, music, and game nights with friends and family.
---
Elizabeth Charnell (she/her/hers)
Assistant Director of Residential Operations
612.330.1526
Office Location: Urness/Mortensen Lobby
Elizabeth received her undergraduate degree from the University of Wisconsin-La Crosse in La Crosse, Wisconsin and her graduate degree from the University of St. Thomas in Leadership in Student Affairs. She has worked in higher education for nearly a decade and has previously worked at colleges in Alaska, Oregon, Florida, North Carolina, and China. 
As the Assistant Director of Residential Operations, Elizabeth provides operational support for the business side of Residence Life such as billing, occupancy, and other housing processes. In addition to the business support, she works closely with the Area Coordinators to help create a positive community experience. It is Elizabeth's hope to provide a safe, inclusive, and welcoming environment for students to thrive in during their time on campus. 
Outside of her role, Elizabeth enjoys sports, traveling, trying new restaurants in the Twin Cities area, powerlifting, and CrossFit. She also enjoys spending time with family, friends, and her adorable dog, Minnie.
---
VACANT
Area Coordinator-Anderson, Luther, and Mortensen  
612.330.1526
Office Location: Urness / Mortensen Lobby 5
Any questions or concerns regarding Anderson, Luther, or Mortensen, please email residencelife@augsburg.edu
---
Alexis Owens (SHE/HER/HERS)
Area Coordinator-Urness/Oren Gateway Center
residencelife@augsburg.edu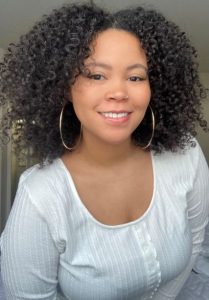 612.330.1526
Office Location: Urness / Mortensen Lobby
Alexis received her BA in Early Childhood Education from Calvin University in Grand Rapids, Michigan. Alexis is pursuing her graduate degree in Education in Counseling from the University of Wisconsin-River Falls. Prior to Augsburg, Alexis has had various experiences working in the field of Education, and was an AmeriCorps service member with a local non-profit called College Possible.
As an Area Coordinator, Alexis works closely with student leaders and residential students to help create a sense of community and belonging on campus. This includes supervising Resident Assistants and Student Leads in providing support, care, and resources to residents. She also collaborates with student staff and other University departments to ensure that residential areas are welcoming, comfortable, clean, and safe for residents.
Outside of her role, Alexis enjoys spending time with her friends and family, going to concerts, puzzles, listening to music, and going to the beach/lake.
---