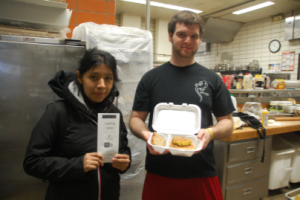 Every Thursday, Augsburg Campus Kitchen students package and deliver balanced meals to 50 seniors in our community. Thanks to a partnership between The Campus Kitchens Project and the AARP Foundation, we are excited to expand these meal deliveries and offer new programming, including nutrition education and themed community meals, to further combat food insecurity and anti-isolation.
This semester, sophomore Rhys Dilenschneider is leading these Thursday delivery shifts and working on nutrition education opportunities. For our first foray into nutrition education, Rhys created a handout explaining the nutritional components of a pumpkin/yam/chickpea patty that sophomore Hannah Thiry and cooking shift volunteers whipped up especially for seniors. Next on the horizon is a collaborative workshop, where Campus Kitchen leaders and seniors at Ebenezer Tower Apartments can share tips and techniques while learning to cook an easy meal together.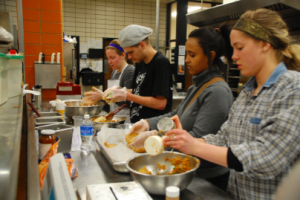 One of our newer community partners, Common Bond Communities Seward Tower West, is eager to bring more of their residents into this program. Already, they have 14 residents on a waiting list to receive meals. Because Rhys and the other Campus Kitchen student leaders are on a tight schedule doing deliveries between classes, we are looking for a few more volunteers before we can start serving our neighbors Seward Tower West.
If you're interested in helping us expand our outreach by volunteering or assisting with nutrition education, contact Allyson at campuskitchen@augsburg.edu. And stay tuned to our facebook page or Twitter for more news from our work with seniors and other neighbors!