It's hard to believe summer is almost over – it feels like it just started for us! With a solid team of interns serving weekly meals, supporting the community garden, revamping our farmer's markets, and teaching gardening and cooking classes, it was a busy but rewarding summer at the Campus Kitchen. We're looking forward to keeping this momentum going into the school year… but before that happens, we finally have time to catch our breath and share what we've been up to for the past 3 months. Check out our summer updates below!
Food To Share
In addition to serving 60 packaged lunches to seniors in Phillips and Seward each week, we had a few special events at our Friday community dinners at Ebenezer Tower. Rhys led an "Easy Cooking & Eating" discussion with residents to share strategies on no-fuss healthy eating. Many thanks to The Campus Kitchens Project and AARP for sharing the curriculum and supporting these new senior outreach efforts! To celebrate Independence Day, we brought our most festive attire, some July 4th trivia, and pies graciously donated by Perkins Restaurant.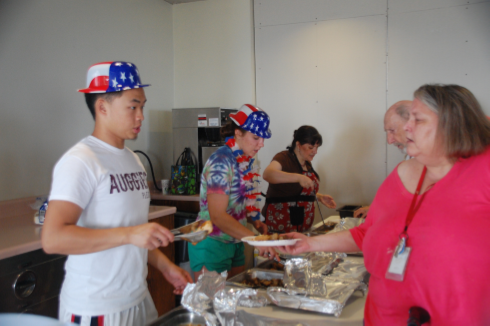 At the Brian Coyle Center, we served lunch and snacks as part of the USDA Summer Food Service Program. Our stellar STEP-UP intern, Fahima, along with Augsburg student interns served balanced meals every Monday through Thursday for up to 50 youth in the summer camp program and any other youth who were around to get a free meal.
Every Saturday, students glean extra produce at the Mill City Farmer's Market as the "Greens For Good" program. Farmers have generously donated over 2,000lbs of fruits and veggies already! Through a partnership with the Cedar-Riverside Health Commons, produce is given away to residents at The Cedars senior apartment complex just down the road. The abundance of kale and other greens early this spring gave our students an opportunity to learn how to identify and cook all kinds of new veggies and encouraged people to take the produce home to be creative in learning how to incorporate fresh, organic produce into their meals.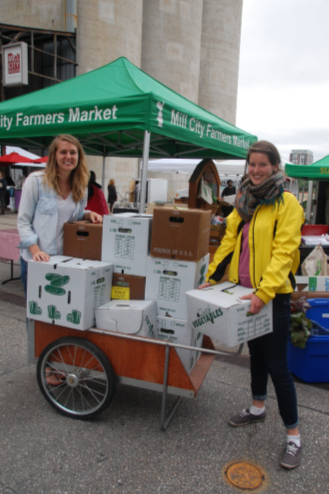 The Campus Cupboard student food shelf was quite slow this summer, but that didn't dishearten us. Modest amounts of donations still came in and every once in a while a student dropped by the Cupboard to pick up some food. On slow days, it's always nice to know that there's at least one less hungry student on campus!
Food To Grow
Even with strange weather conditions, gardeners have done wonders with their plots in the Augsburg Community Garden this year. The tomatoes are ripening, the zucchinis are taking over, and the melons are looking juicy! We've had exponential growth in interest from community members, and we're wishing we had more space to accommodate all these gardeners! Some of this growth has come from the outreach and organizing efforts of  Blake from the Health Commons Garden project and College Health Corps VISTA, Yasmin, who are specifically working to make the garden more accessible to East African elders in the neighborhood.
To meet the gardeners, taste fresh garden snacks, and see a new salad table built by Augsburg student intern, Darius, join us for a Community Garden Day celebration 2-5 pm on September 19, in partnership with the Brian Coyle Garden and West Bank Community Garden!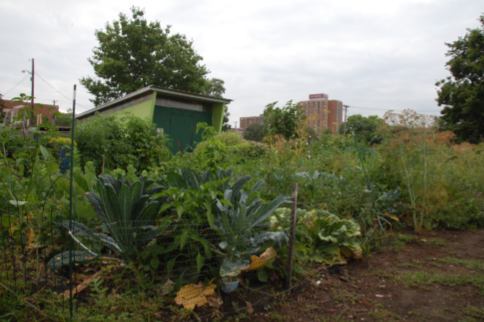 Food To Buy
Thanks to generous sponsorship from the West Bank Community Coalition and Seward Co-op, the West Bank Farmer's Markets are in full swing! Markets currently offer an excellent selection of produce and local goodies, including onions, potatoes, cucumbers, herbs, jams, granola, corn, melons, honey, flowers, tomatoes, and more! Our EBT program is up and running, which means customers can use cash, credit, debit, or EBT cards to purchase fresh food at the markets. We had a local Augsburg group playing music on Thursdays in August during our 11am – 2 pm market and we are currently working with Mixed Blood Theatre to set up some awesome entertainment at our Cedar Ave site on Tuesdays from 3 pm – 6 pm. We'll be providing some sampling demos and recipe ideas at various markets in September, so stop by to learn new and delicious ways to use some of our farmer's produce. Thanks to Wellshare International and The People's Center, we have also provided some nutritional market tours to introduce new market-goers to types of produce, how to use and prepare it, and the health benefits of including them in your daily diet. Plus, participants each get incentive dollars to spend on their own produce at the market!
There are a lot of exciting things happening around local food in our neighborhood, and the farmers market is just one of the great aspects that make Cedar-Riverside such an excellent neighborhood to live, play, work and eat in. These markets would not have been possible without the creative organizing of Community Health Initiative intern, Amy Jones. So, grab your sister, brother, parent, child, friend, or coworker and head over to the West Bank Mini Farmers Market!!! We hope to see you all there this fall, you're sure to find some great deals on fresh, local produce!
Tuesdays, 3 pm – 6 pm at Dania Hall Site – 427 Cedar Ave S
Thursdays, 11 am – 2 pm at Augsburg Ice Arena – 2323 Riverside Ave S.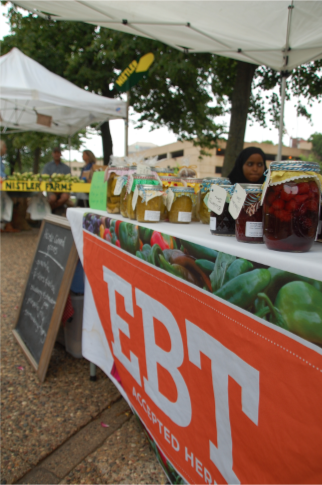 Food To Know
On Mondays, we were in the garden with the youth, planting, weeding, learning about water, digging for worms, and harvesting berries and veggies to use in the afternoon snack. Through the Chuck Green Fellowship at Macalester College, intern Sarah tested out lessons and recipes to create a curriculum that incorporates garden produce into the daily snack. Youth helped prepare strawberry/mulberry shortcakes, muffins, kale salad, and a "taste the rainbow" fruit and veggie plate. To end the summer, Joe and Iman from Growing Lots Urban Farm shared their own farming knowledge with the youth and Chef Andrew from A'Viands Campus Dining gave a tour of the Augsburg kitchen and answered all kinds of questions about what it's like to be a chef. We're looking forward to more gardening and cooking together next year!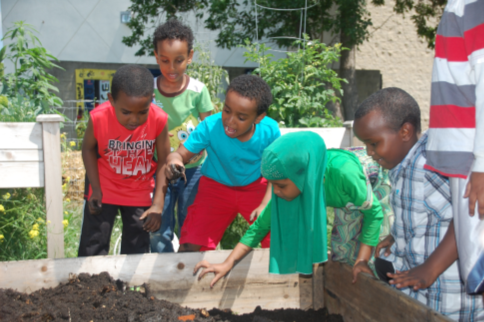 On Tuesdays, TRIO/Summer Bridge students have taken over the Augsburg Kitchen for the cooking shift, with guidance from Augsburg student and chef extraordinaire, Joaquin Vences. Students learned that you can make more than just kale chips with the massive amounts of leftover kale from our farmer's market gleaning shifts. The turkey and kale meatballs were a hit with our senior lunch delivery recipients. Students also got to "sharpen" their knife skills while chopping boxes of cucumber and zucchini to serve in our meals or freeze for later this winter when the fresh produce supply is running low.