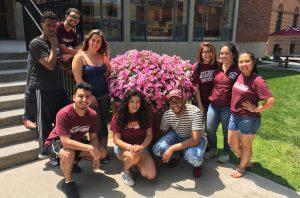 Auggies Engage aims to co-create a shared vision of civic and campus life with fellow students, problem-solving for the benefit of the whole community. Do not underestimate the power of your voice. We don't.
Throughout September and October, incoming first-year and transfer students meet with a student leader on campus to build a relationship and explore your power and purpose at Augsburg University. Your student leader will reach out to you via your Augsburg email account to schedule a time to meet.
As an incoming Transfer or First Year student, you will have the opportunity
To connect with current student leaders with whom they may not necessarily connect to create understanding around shared interests, values, goals, and passions;

To begin to inform students' sense of agency and community on campus; and

To ask any questions or share any concerns they have regarding their first few weeks on campus.
Engaged Student
Engaged Students operate from a mindset that campus and community change is a possibility and that new realities can be realized. They build relationships and alliances with fellow students, staff, and faculty; and attempt to build their capacity by understanding others' values, cultures, backgrounds, and experiences (adapted from Strom, 2006).