A Democracy Augsburg Workshop
Blog post by Emily Braverman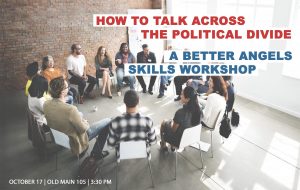 "Political ideology" is a term used frequently by political activists, students, and generally by anyone who considers themselves a political enthusiast. What exactly does it mean? Simply put, it is a term describing a person's political views.
As a myriad of recent examples from American politics display, when diverging political ideologies collide the result is not necessarily respectful or peaceful. Even some of the most qualified politicians have not mastered the skill of respectfully engaging in conversation with those who have a different political ideology.
In response to this challenging reality, The Sabo Center is partnering with Better Angels to offer a workshop where participants will learn effective ways to communicate with others who differ from them politically. Better Angels is a national citizens movement that aims to reduce political polarization in the United States by bringing together liberals and conservatives to understand each other beyond stereotypes, to form red/blue community alliances, to teach practical skills for communicating across political differences, and to make a strong public argument for depolarization.
Come join The Sabo Center for a fish bowl-style discussion in which an equal number of self-declared conservatives and progressives join together in conversation about their differences and how to embrace each other's side:
Wednesday, October 17, 3:30pm – 5:30pm, Old Main Room 105.