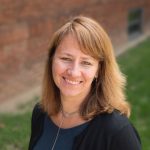 GET TO KNOW THE SABO CENTER!
In each Staff Feature installment, we ask members of the Sabo Center staff to share about what they do, along with some fun facts. 
This post features Elaine Eschenbacher, Director of the Sabo Center for Democracy and Citizenship.
What do you do at the Sabo Center?
As Director of the Sabo Center, I design and oversee programs and opportunities that engage a wide diversity of people in public work, community engagement, and civic agency development. No two days are alike.
What's one social issue that is most important to you right now?
The 2020 Census. It's nerdy, yes, but it determines political representation for the next decade and provides data that shapes how policymakers and business leaders will invest public and private resources in communities. Watch the Sabo Center calendar for upcoming events related to the Census.
What's your favorite place on Augsburg's campus?
Anywhere with a good view of the Catalpa tree on the corner of 22nd and 7th, especially in Spring, when it's in bloom.
If you could recommend one book, movie, or podcast, what would it be and why?
I love the Song Exploder Podcast, in which musicians take apart their songs and tell how they were written. It's a great window into the creative process and shows how varied and individual creative work can be.
Name one spot in the Twin Cities that you would consider a "must-see"?
The Mississippi River gorge from a boat on the river. Many of us cross bridges above the river often, but there is nothing like seeing Minneapolis or St. Paul from the river.
Have any last facts/favorite quotes/advice/etc. that you would like to share?
I believe that we humans need to work, it is essential to our happiness. One of the books I read this summer is Sarah Smarsh's Heartland: A Memoir of Working Hard and Being Broke in the Richest County on Earth, which I recommend. She wrote the following passage about work that beautifully captures this idea and its inherent tensions: "Grandpa Arnie loved working the land, not for the price of wheat per bushel but because smelling damp earth at sunrise felt like a holy experience…Work can be a true communion with resources, materials, other people. I have no issue with work. Its relationship to the economy—whose work is assigned what value—is where the trouble comes in."