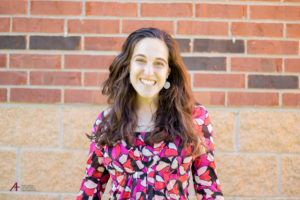 GET TO KNOW THE SABO CENTER!
In each Staff Feature installment, we ask members of the Sabo Center staff to share what they do, along with some fun facts. 
This post features Natalie Jacobson, Campus Kitchen Coordinator.
What do you do at the Sabo Center?
I coordinate Augsburg's Campus Kitchen program, which works to make healthy food accessible in Cedar-Riverside and on Augsburg's campus. We provide opportunities for Augsburg students to build leadership skills and connect with one another and with our surrounding community through food!
What is one social issue that is most important to you right now?
So many–it's hard to choose! But at this moment, the horrific immigrant detention camps are top of mind.
What's your favorite place on Augsburg's campus?
Hands down, the Food Lab (Hagfors 108). If you haven't cooked something in the Food Lab yet, you're missing out! 🙂
If you could recommend one book, movie, or podcast, what would it be and why?
I love The Mortified Podcast, a storytelling series where people share embarrassing things they wrote as kids/teens. With so much heavy stuff going on in the world, sometimes I need to consume media that makes me laugh a lot. This podcast does the trick!
What's your favorite thing to do outside of work?
Lately, I've been enjoying getting more involved with the Twin Cities Jewish community and organizations like Jewish Community Action that are doing work for justice through a Jewish lens!
What are three words you would use to describe yourself?
Passionate, goofy, affectionate.
What's your favorite place in the world?
My great aunt has a house in Quebec, on a big beautiful lake in the middle of the woods. Spending time at that house, surrounded by family, brings me so much inner peace and comfort.
What's the coolest thing you're working on right now?
I'm working with the Campus Kitchen team to explore a partnership with Brightside Produce, an organization working to make fresh produce available at corner stores in food deserts. Campus Kitchen will likely be selling fresh produce at a low cost to help support Brightside's mission. Keep your eye out for that this fall!
Who would you most want to swap places with for a day?
My amazing (way bigger than me) little brother Alec Jacobson!