Get to know the Sabo Center!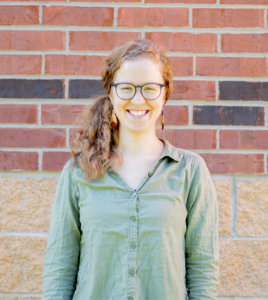 In each Staff Feature installment, we ask members of the Sabo Center staff to share about what they do, along with some fun facts. 
This post features Rachel Svanoe, Director of LEAD Fellows and Cedar Commons Coordinator.
What do you do at the Sabo Center?
I have two primary roles in the Sabo Center, in addition to other Sabo Center initiatives that my work allows me to be a part of. First, I direct the LEAD Fellows program, a work-study/leadership program through which a cohort of about 30 Auggies work in community organizations and learn together about leadership and social change throughout the year. Second, I organize around the use of Cedar Commons, a campus-neighborhood collaboration space on the edge of our campus that Augsburg supports.
What's your favorite thing to do outside of work?
To eat good food with people that I love! And to catch up about life.
What are three words you would use to describe yourself?
Reflective, spunky, genuine.
What's your favorite place in the world?
I grew up near Powderhorn Park in south Minneapolis. Not only is it my favorite place to go when I need to think or be refreshed, but so many important moments in my life have happened there! Someday I want to organize an event where people tell stories about all of the major life moments that have happened in that park.
What's the coolest thing you're working on right now?
This year, I've been learning deeply from the work of Resmaa Menakem ("My Grandmother's Hands") and Rachel Martin (his mentee). Their work explores racialized trauma and the ways in which the bodies of those of us raised in this country carry the impacts of racism, whether we have a body of color that is targeted by it or a white body that is complicit in carrying it out. Resmaa and Rachel's work provides a model for healing these deeply embedded patterns in our bodies and I'm hoping to bring this work to Augsburg, helping us to become a campus where everyone can be in more authentic relationship with each other with greater safety and less fear.
Name one spot in the Twin Cities that you consider a "must-see."
Besides Powderhorn Park, I've really been enjoying St. Anthony Main and the Stone Arch Bridge lately. It's a pretty magical place to walk around, in every season!