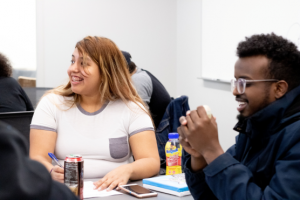 The Sabo Center for Democracy and Citizenship was recently awarded $75,000 by the Hearst Foundation to support the LEAD Fellows program. LEAD (Leaders for Equity, Action, and Democracy) is a Bonner-affiliated program that engages undergraduate students in public work projects and paid internships at community-based organizations. For two to four school years, LEAD Fellows work directly in the community to address social issues such as education, homelessness, racial justice, and poverty while participating in a peer leadership and learning cohort.
It is common for students in higher education to participate in community-based work through service learning or volunteering. However, for students who need to support themselves by working, a course that includes service learning or doing volunteer work is not an option. Because LEAD Fellows' work in the community is paid, it allows for students to engage in long-term, in-depth community-based work who may not otherwise be able to do so due to financial constraints. LEAD Follows makes it possible for students with the need to work to make money while making a difference and growing as a leader in a supportive learning community. In addition, the cohort-based community at the heart of the LEAD program helps students to make connections with peers and mentors, builds students' sense of belonging, and provides a setting to practice leadership.
Funding from the Hearst Foundation will support the pay students receive for their community-based internships, and will enhance the activities of the cohort, which includes twice-yearly retreats and bi-monthly gatherings. Thank you to the Hearst Foundation for their support!