This year the Leaders for Equity, Action, and Democracy (LEAD) Fellows have been reflecting critically on social issues of justice and equity, and discovering how they can use their own agency to organize and influence change. In the fall of 2021, the students engaged in organizing to raise voter participation and civic education on campus, and connected with Minneapolis City Council members to grow their understanding of community issues and policy. 
This Spring the LEAD Fellows ventured off campus to REM5 Virtual Reality Labs to experience the ways that REM5 and partners at RFTP (Rooftop) are using storytelling through technology in order to create learning experiences and build awareness.
Upon first sight REM5 is a large, warehouse-looking building. As you enter the space you are drawn in by an array of different technology- from big screens to small QR codes that transport you into augmented reality through your phone's camera- which makes it a very creative space. The group started out by participating in a VR experience using REM5's headset technology, the experience is titled "Traveling While Black," and transports participants to different places to better explain what it is like to travel as a Black person in the Jim Crow-era (and beyond) in the US. The experience references the Green book: The Black Traveler's Guide to Jim Crow America, a publication that referenced safe establishments for Black travelers.
Traveling While Black is an immersive experience that takes participants into well known establishments like the historically popular Ben's Chili Bowl in Washington DC, sitting them right across the table from people giving accounts of their own travels across the US. Students were able to reflect on what it means to be able to walk into restaurants and shops without fear of discrimination and physical violence, and the fact that the spirit of such discrimination and violence is still very much alive today in many spaces and systems.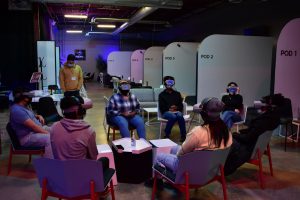 The VR experience was paired with a live storytelling session with RFTP, a consulting group that creates space for deep reflection through storytelling, active listening and group dialogue. RFTP facilitated discussion about how we view safety in different areas in our lives, and how we all have a responsibility to not only proclaim the spaces we hold and create to be safe, but to intentionally change our environments so that when people enter spaces they actually feel safety, belonging and protection, physically and psychologically. 
"The more you are able to put yourself in someone else's shoes the more you are able to understand and connect with others. This makes other people feel welcomed and understood, makes them feel heard and that makes them feel safe. That is why it is always important to hear what others have to say and listen with an open heart." – Barbara Sabino Pina ('23)
Students were invited to explore other VR games and activities offered inside the REM5 studio. Below are some of the responses students gave when asked about future topics they would like to see addressed through this platform:
"Success while dealing with trauma, healing from the sociological trauma within BIPOC community, how to cultivate generational wealth with real estate, stocks/bonds, ntfs, etc." -LEAD Fellow, class of 2023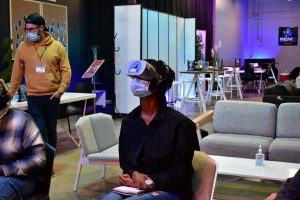 "Mental health and mental disorders. Understand better the perspective of a person who is differently abled." -LEAD Fellow, class of 2023
The LEAD Fellows look forward to continued learning and integration of technology to leverage social justice.