By Alana Goodson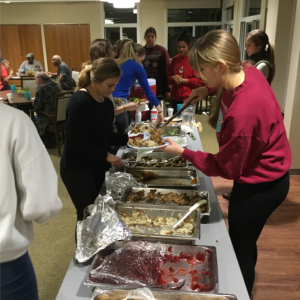 Ebenezer Tower on Portland Avenue in Minneapolis is a place that many senior residents call home. The residents are diverse in age, ethnicity, and history. Ebenezer Tower and Augsburg Campus Kitchen have a partnership that involves building community through sharing food together. Campus Kitchen students deliver lunches to seniors on Thursday afternoons, and on Fridays, we serve and eat dinner at Ebenezer. This partnership has allowed many young college students like myself to build relationships with senior residents.
I have led many Ebenezer Tower meal shifts over the past three semesters. In the beginning, it was difficult to establish relationships because there were so many residents to talk to and many names to remember – but as time went on, I became more familiar with the regulars and began to remember their names as they began to remember mine.
Although I lead most shifts with the assistance of volunteers, I have led a number of them alone. It was during those shifts that I received a large amount of gratitude from the residents, and they were truly grateful for the effort and persistence that I displayed so that we could share this weekly dinner. On March 9th, 2018, Kat and Rita, two residents, told me, "We can help you as much as you need, we appreciate you coming before your spring break, all by yourself." That is not the only time they have expressed their gratitude. On April 13th, 2018, Bruce came up to me after his meal and said, "Thank you for coming even with the weather conditions." From these comments, and many others, it is evident that the relationship Campus Kitchen and Ebenezer Tower have built together is appreciated.
The residents have not stopped with their meaningful expressions of gratitude. This semester, they donated five large boxes of non-perishable foods and over one hundred dollars to support Augsburg's Campus Cupboard, a food shelf available to all students. It has been amazing to see the continuous reciprocal relationship that has been built between the Augsburg and Ebenezer community. We continue to bring food to them every week, and every couple of weeks they donate a couple more dollars or food that they have been keeping in stock just for our cupboard. 
The residents at Ebenezer have been so supportive towards Campus Kitchen at Augsburg University and me. I will forever be grateful for their clapping and cheers that I receive with my volunteers as we walk in at 6 pm. I believe this is because every time that they welcome us in, I can feel the community coming closer together–and it feels a little more cozy, like home, every time.