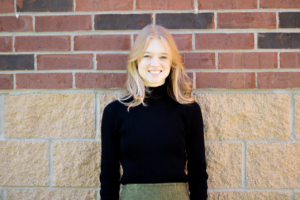 Get to know the Sabo Center!
In each Staff Feature installment, we ask members of the Sabo Center staff to share about what they do, along with some fun facts.
This post features Green Bouzard, Program Coordinator.
What do you do at the Sabo Center?
I get the opportunity to collaborate with everyone in the Sabo Center and to be a part of much of what the Sabo Center does! I am a project manager for strategic initiatives, evaluation, grants, community collaboration initiatives, and communications.
What's your favorite place on Augsburg's campus?
The lobby of Hagfors. I love that Martin Luther's hymn "A Mighty Fortress" is etched into the window so that the score is "projected" via its shadow onto the wall at the right time of day!
If you could recommend one book, movie, or podcast, what would it be and why?
The Daily podcast from the New York Times. They dig deep on a current event or investigative story for 20-30 minutes every weekday–I feel more informed about important national and global news than I would be otherwise!
What's your favorite thing to do outside of work?
Play and create original music.
What are three words you would use to describe yourself?
Curious, creative, determined.
What's your favorite place in the world?
Golden Gardens Park in Seattle.
What's the coolest thing you are working on right now?
The Sabo Center just finished up hosting a national conference for the Place-Based Justice Network, a group of colleges and universities from across the country who do intentionally place-focused community engagement work with a social transformation and racial justice lens. I coordinated a lot of the details for the conference, and it was so satisfying to see everyone come together for 2.5 days of learning and networking!