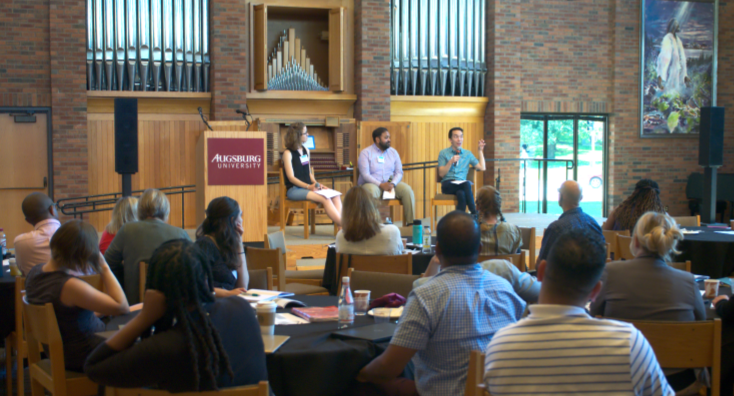 On July 10-12, 2019, the Sabo Center for Democracy and Citizenship at Augsburg University hosted the Place-Based Justice Network for its annual Summer Institute. 
The gathering is an essential learning and networking opportunity for the Place-Based Justice Network, a group of twenty member institutions that are committed to transforming higher education and our communities by deconstructing systems of oppression through place-based community engagement with a racial justice lens.
Place-based community engagement is a focused approach to university-community engagement that emphasizes long-term, university-wide engagement in community partnerships in a clearly defined geographic area, and focuses equally on campus and community impact. Engaging with stakeholders from across the university and neighborhood community, a place-based approach aims to enact real and meaningful social change through partnership and co-creative work.
While the PBJN has held annual Summer Institutes since 2014, 2019 marks only the second year that the Summer Institute has taken place at an institution other than Seattle University. In 2018, the Summer Institute was held at Loyola University Baltimore, and in 2019, it was held at Augsburg University.
The two-and-a-half-day conference was packed with opportunities for learning and networking with local and national leaders and scholars in place-based community engagement. Some highlights included:
Welcoming remarks by Augsburg President Paul Pribbenow, and an introduction to Minneapolis and Cedar-Riverside with Jaylani Hussein, Executive Director of CAIR-MN.

Keynote address with Dr. Tania Mitchell, Associate Professor of Higher Education at the University of Minnesota. Dr. Mitchell's scholarship focuses on service-learning as a critical pedagogy to explore civic identity, social justice, student learning, race and racism, and community practice.

"Nothing About Us, Without Us, is For Us," a panel discussion with Avi Viswanathan of Nexus Community Engagement Institute and Tyler Sit of New City Church, moderated by Rachel Svanoe Moynihan of the Sabo Center.

Site visits to community partners in Cedar-Riverside, including Sisterhood Boutique, the Cedar Cultural Center, Brian Coyle Community Center, and Health Commons.

Workshops with presenters from participants on topics ranging from community voice, local purchasing and hiring, school-university partnerships, and more!

Racial healing discussions and group circles.

A wonderful evening reception sponsored by the McKnight Foundation.
The Institute was a rich opportunity for learning and connecting with our colleagues from across the country. Some of the Augsburg team's takeaways included:
The importance of centering community voice. This work takes constant attentiveness and intention.

Every institution is in a different place with this work–and that's ok! There is so much to learn from where different universities and communities are in the partnership building process, and all of the successes and failures they've experienced. Learning from our colleagues from across the country has allowed us in the Sabo Center to view our place-based work in Cedar-Riverside with fresh eyes.
Interested in learning more about Augsburg's place-based community engagement? Visit the Engaging Community page on the Sabo Center website, and contact us to learn more.
Special thanks to the McKnight Foundation for their support.