Nell Gerke
Graduated in 2019 – environmental studies major with an urban studies minor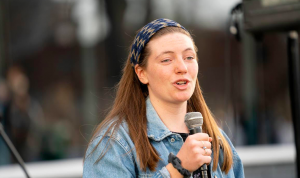 What sparked your interest in Campus Kitchen?
I joined Campus Kitchen through the LEAD Fellows Program; I talked with a woman who worked with Campus Kitchen at the time, and she talked about how much she got to work in the community, and I think that's what really got me interested in it in the first place. I was already pretty interested in food systems, but the whole community aspect really sold me on CK.
What were the biggest challenges you faced working with Campus Kitchen?
Finding students to do shifts with me! When there wasn't a social work class where students needed to fulfill hours or something like that, I didn't see a lot of people signing up for Campus Kitchen volunteering.
  What were some of the highlights of your time with CK?
I can say that usually if I went into a meal shift feeling funky, I usually felt out of the funk after the meal shift, so it was always very healing. I love working in the community garden– that was always a highlight. It felt really good to have that connection with the community, and I had never gardened before. So I learned so much from everyone around me all the time, which was very cool. I loved the garden. I loved hosting the Garden Party food storytelling event too.
Skills you gained?
I learned how to build community and relationships.

I learned to be pretty scrappy with making food, just because we would always wind up with random stuff, and that would be my dinner. Making something out of what you have around is a great skill- that's how I still cook my meals.
What are you currently up to and does it connect to CK?
I work at a food Coop in Northfield, but I am also running for the Board of Directors, because I want to be more involved in my community and have a larger presence. 
Other things involved you were involved with at Augsburg?
I played softball. I was a LEAD fellow. I was an RA briefly.