Many incredible student leaders have worked with Augbsurg's Campus Kitchen (CK) program over the years. Current CK student leaders Alana Goodson and Chouneng Khang interviewed several CK alumni to learn more about their experiences with the program.
Britta Andress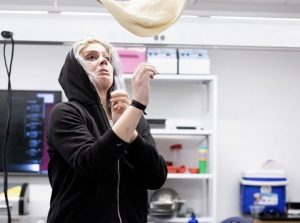 Majored in sociology, graduated 2019 
What sparked your interest in Campus Kitchen?
(Andress): I was in the LEAD Fellows program.
What were the biggest challenges you faced working with Campus Kitchen?
(Andress): Having to work within our budget was a challenge. We wanted to give the youth at the Brian Coyle Center better quality food but we were not able to afford it. 
 What were some of the highlights of your time with CK?
(Andress): The people, especially everyone on the Campus Kitchen student team working together and not being individualized/separated due to roles or titles.
Takeaways/Skills you gained?
(Andress): CK taught me that even small acts of awareness and change can have lasting impacts.
Giving back to the community is something I learned to really value.
What are you up to now? How does it connect to CK? 
(Andress): Meal prep is definitely something I still use and will always use to this day. So don't underestimate its value. 
Other things you were involved with at Augsburg?
(Andress): I had a job outside of campus and was also a student research assistant for two of my professor independent research projects. 
Advice for current, future, past CK interns/volunteers?
(Andress): I learned to enjoy the process and not to participate just for the result. A lot of times when people volunteer, they do it to have it on their resume or for class credit. With Campus Kitchen, it's important to stay in the present and see the impact and change happen over time because making a difference isn't always a linear process.