Many incredible student leaders have worked with Augsburg's Campus Kitchen (CK) program over the years. Current CK student leaders Alana Goodson and Chouneng Khang interviewed several CK alumni to learn more about their experiences with the program. 
Yasmin '2015: Biology Major and Religion Minor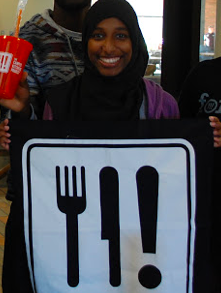 What sparked your interest in Campus Kitchen?
I wanted to be a part of helping our neighbors in need. 

I love what Campus Kitchen stands for! I admire its mission to serve the community that surrounds the campus by making healthy food accessible.
What was your role with CK?
My role was to help build sustainability and capacity building. I recruited volunteers, organized events that educated others about food equity and provided ways people could access healthy foods.  

I attended food deliveries at sites like Ebenezer Towers and Brian Coyle. 

I hosted an event where I invited special speaker LaDonna Redmond, a food justice advocate to discuss issues surrounding food equity. 

I helped with fundraising through Give to the Max for Campus Kitchen. 

I explored different modalities for volunteers to participate in reflection so that volunteers get a chance to understand the impact of their volunteering. 

I worked in the community garden. I coordinated with gardeners about their plots and addressed any issues that they had.  
 What were some of the highlights of your time with CK?
I attended the Food Waste & Hunger Summit in Arkansas. I learned about different ways we can combat ending hunger and poverty. It was a fun road trip! At the end of my year of service, I also presented at the 2016 Nonprofit Leadership Conference about my experience with Campus Kitchen and Health Commons. The theme of the conference was courageous engagement across differences which fit perfectly with my experience!
I learned leadership, communication, time management, planning & organizing, teamwork, conflict resolution, empathy, adaptability & flexibility, networking, and cultural awareness.
What are you up to now? How does it connect to CK?
I'm attending the American University of Antigua School of Medicine. I'm currently in my 3

rd

year of clinical rotations in New York.  

Working with Campus Kitchen solidified my pursuit in working in community health and focusing on serving underrepresented communities. 
Advice for current, future, past CK interns/volunteers?
Get to know the community you're serving by building relationships. Take time to listen to community members' stories– their stories matter.

Don't be afraid to ask questions if you have any cultural or religious differences when making food and delivering food with the community members. They love having conversations with students.