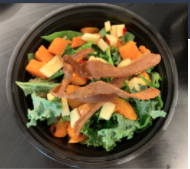 The Augsburg Local Salad Team and Dining Services are excited to share delicious student-designed, locally-sourced salads with the Augsburg community!
Salads will be available at The Commons and Kafeega November 9th, 16th, and 17th + during Late Night Breakfast and at Kafeega only on November 13th 12-1pm (+ more dates to come).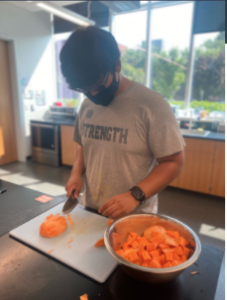 The Fall Harvest Salad being featured this season by Dining Services highlights the best of this time of year. A quinoa base is tossed with kale and spinach, chopped Minnesota apples, and roasted sweet potatoes, which are garnished with fried parsnips and pepitas (pumpkin seeds) and then finished with a sweet + spicy dressing. Tenzin Rabga and Malachi Owens are the creatives behind this particular salad and intentionally thought through their seasonal produce choices, sweet-spicy flavor combinations, and inviting crunch that all come together nicely for a satisfying meal. "When making this salad, there were many things I considered, not just my cultural connection because I also wanted my salad to be very inclusive and open to people's cravings in winter: sweet, hearty, and slightly spicy." -Tenzin Rabga
The Fall Harvest Salad not only satisfies as a fresh, seasonal meal, but it also uplifts the best of Augsburg and its community. As an anchor institution, Augsburg is committed to contributing to the health, safety, and vitality of the community of which we are a part. In 2020, the Sabo Center for Citizenship and Democracy launched the Augsburg Local campaign to mobilize institutional resources in ways that build strong, mutually beneficial community partnerships and respond to community needs and opportunities. By leveraging Augsburg's economic resources in the form of purchasing and investment dollars, we can build a stronger, more sustainable local economy in a variety of ways. 

For example, over 75% of the produce and protein ingredients in the Fall Harvest Salad were purchased locally. This was one of the directives requested by the salads' creators. The kale and sweet potatoes you'll enjoy were supplied by The Good Acre, a Twin Cities food hub that partners with emerging farmers, many BIPOC, who grow a variety of crops, promoting biodiversity. Of course the apples were grown in Minnesota, since our state can boast of so many varieties from sweet to tart, crisp to ones perfect for pie – and salads! These apples were supplied by Minnesota-based distributor, Bix, which has a special selection of locally-grown products. The parsnips, coming to you in the form of a chip garnish, were sourced from the Wisconsin Growers' Cooperative via our neighborhood grocery store, the Seward Coop. And even the honey and Hope Creamery butter were Minnesota produced! Ames Farm honey is single source, meaning that it can be traced back to a hive and floral source, "making it unique to a specific time and place in Minnesota." You can't get more local than that! 
The Salad Project was born out of Augsburg Local's co-creative work with students who wanted to drive this transformational social change initiative. Thanks to an Institutional Innovation Grant from the Office of the University President, the Salad Team has been working tirelessly with Dining Services since the beginning of the summer to create salad recipes that satisfy a set of goals oftentimes at odds with one another: 
Salads that taste good and students will want to eat.

Salads that feature ingredients seasonal to Minnesota and can be locally-sourced.

Salads that reflect the tastes, cultures, and identities of their creators.

Salads that are cost-effective for Dining Services to produce and the Augsburg community to purchase.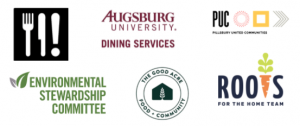 Thankfully the team had support from the local nonprofit, Roots for the Hometeam and youth from Pillsbury United's Waite House. They and other high school youth in Twin Cities garden programs sell their student-developed, locally-sourced salads at Twins' games (and beyond!). The Salad Project Team also relied heavily on the expertise and support of Augsburg's Dining Services staff to fine-tune their recipes, think creatively about flavor profiles, and partner in the tedious work of serving these salads at-scale in The Commons and Kafeega. These lessons from our partners fed our fun, interactive research and development sessions in Augsburg's own Food Lab (Hagfors 108). In these sessions, we worked in small teams, divided based on season, to explore flavors, experiment with ingredients, and learn about food preparation techniques.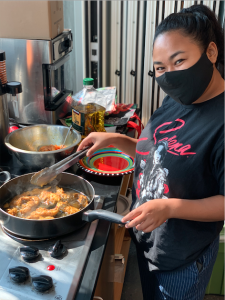 Here's Grace Koch Muchahary's take on the process: "We practiced in teams to get all the details and be confident about our salad ingredients before we presented them to the chefs from Augsburg's Dining services. We were really happy to get an opportunity to present our summer and winter salads. It was a really good experience to make our own recipes and share them with others – and now with the entire Augsburg community! We had the challenge to reach each of our goals, but having the salad-making sessions before this final day helped a lot to see the process. It was really fun to work closely with the project team members and to support one another."
Enjoy the salads!
–The Salad Team: Grace Koch Muchahary, Tenzin Rabga, Malachi Owens, Zoe Barany, Reginald Oblitely, Gigi Huerta Herrera, Alyssa Parkhurst, Natalie Jacobson, and Monica McDaniel