Come rekindle community, self-heal, and reconnect with the Earth through celebrations during Earth Month. These campus-wide, cross-department collaborative events will allow Augsburg students, staff, and faculty further connection to green spaces on campus, engagement with educational experiences by all forms of teachers, and the opportunity to build solidarity with social justice work bonded by intersectionality. Together in community, engage with local writers Erin Sharkey & Michael Kleber-Diggs in celebration of A Darker Wilderness, share in the art of resistance, bike/walk/roll to campus, eat/buy local, love water, share your voice at the State Capitol, and finish the month with a community bonfire into the sunset. 
Mii omaa akiing endaayang – The Earth is our Home
For more information: Event details, descriptions, registration links, and virtual Zoom links can be found on this document. Follow @sustainable_augsburgu & @augsburg_eac on Instagram for regular updates. Subscribe to the Earth Month 2023 calendar for all event info.
Make a contribution! During April's Earth Month (and year-round), the ShareShop is accepting donations of gently-used items! These items will be redistributed back to students in the fall. As you move out of your residence hall or do some spring cleaning, drop off your donations with a student leader at Science Hall 8. Checkout the ShareShop website for accepted items and expanded hours during MoveOut.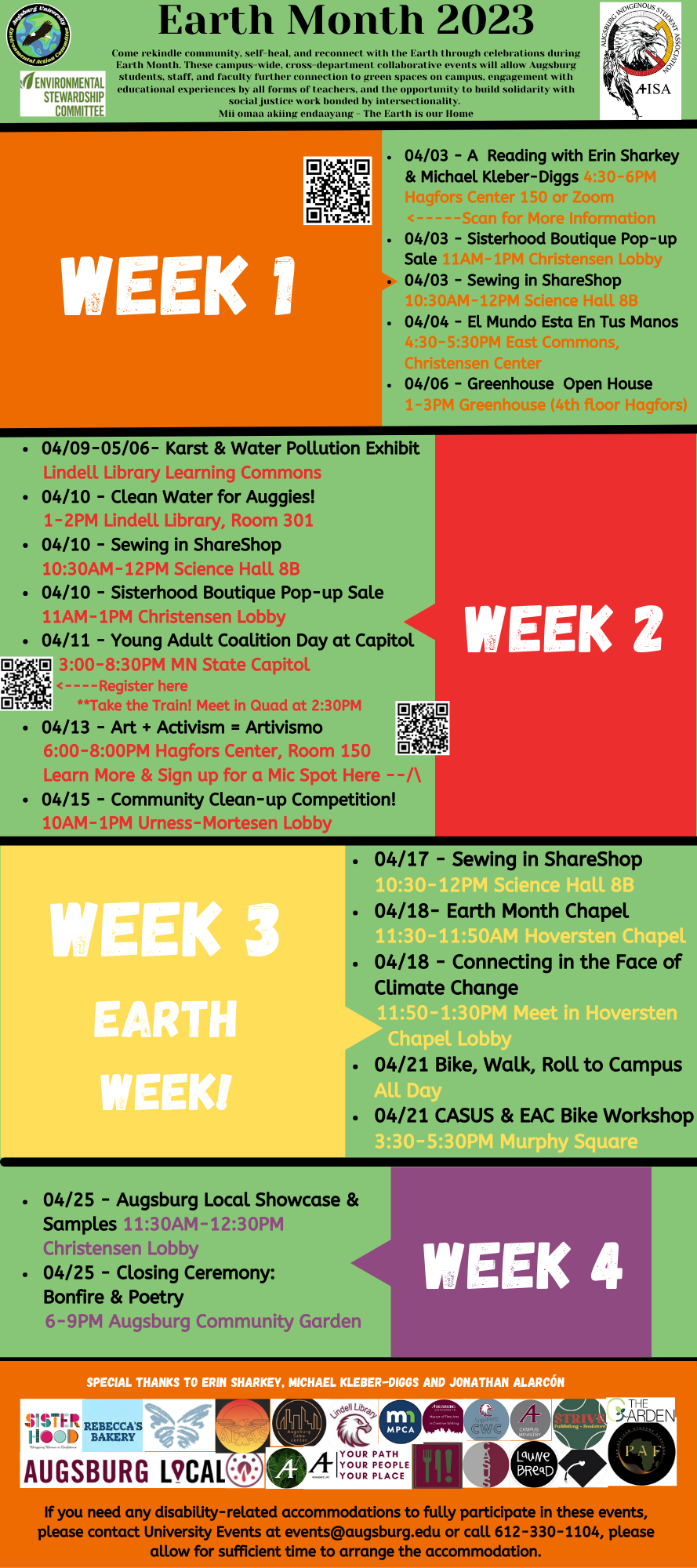 Support & Accessibility for All Earth Month Events
We want everyone to feel welcome and able to fully participate in all Earth Month festivities. If you are in need of any disability-related accommodations to fully participate in these events, please contact University Events at events@augsburg.edu or 612-330-1104. Remember to have the name, date, and time of the event(s) with you when contacting their office. Please allow for sufficient time to arrange the accommodation(s).
All virtual events will be hosted over the Zoom platform. For the Zoom links, meeting ids, and passwords for virtual events, please refer to the event description on this document. If you are affiliated with Augsburg University, please review these Zoom Articles to ensure that you are able to connect. If you are not affiliated with Augsburg University, you are welcome to participate in all of these events. For Zoom tech support, please refer to the Zoom website's Resources tab.
If for any reason you are having trouble attending an event, please email the specific event's contact and/or Augsburg University's Sustainability Officer, Monica McDaniel at mcdaniem@augsburg.edu. We hope you enjoy Earth Month!!