GRADUATE
Chad Leonard '10 MBA
I'm able to take what I learn into the workplace the very next day and use that knowledge to solve significant business problems.
The ethics-based Augsburg Master's in Business Administration program has been helpful to Chad in his career as a business operations and resource planner for a major medical manufacturer. What he's learned has helped him in thinking about how morals and ethics guide decision-making. "Sometimes that is more important than the bottom line because my decision has an impact on my friends."
The professors bring richness to the program because they combine a background in academia with real-world experience. And they get what it means to be an adult learner.
I just clicked with the other students in my cohort. We get along very well. If I were building a dream team staff, I would tap them.
---
Lieutenant Ed Frizell '05 MAL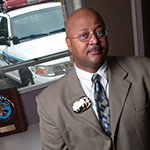 As an officer in the Minnesota Army National Guard, Ed Frizell had a lot of leadership training. But he says the Master of Arts in Leadership program at Augsburg took that training to a whole new level. "It was an intense program, but I excelled," he says.
As an undergraduate student, Ed says he never really realized his potential. "In the MAL program, everyone came prepared, and I had to meet that challenge." And meet it he did. Ed even completed a class while he was deployed in 2004 in a combat zone.
Ed adds that the MAL accelerated his career, moving him up two ranks in the National Guard and gaining him promotion as a commander in the Minneapolis Police Academy. As a direct result of the leadership training he received at Augsburg, he was also selected to attend the FBI national academy.
He credits his success in the MAL program to classmates who pushed him to perform to the best of his ability and the supportive faculty, several of whom are still mentors to him. "This program is nothing short of outstanding."
---
Maren Miller '07 MAE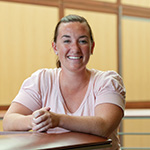 After completing her bachelor's in studio art, studying abroad, and working with as a teacher with an Americorps program, Maren decided to get a master's degree in education. "I wanted to work and go to school at the same time, but I also wanted to be a part of a community."
While at Augsburg, Maren did classroom observations at the Seward Montessori school and at other rural and suburban locations. She also traveled to Namibia with a group of teachers to study the education system and social service agencies. Discussing each of these experiences with students and professors helped her learn about the many facets of being an educator and gave her confidence in her ability to be a successful teacher.
Today Maren teaches at an international school in Norway.
---
Adrienne Slaughter '10 MSW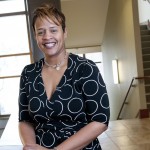 Graduating from the Augsburg MSW program is a special privilege to me. I received an outstanding professional education, but I also benefited from the collective wisdom of faculty who gave me the knowledge and skills to serve as a social worker. As an African American professional woman, many doors have been opened to me because of the education I received at Augsburg. Today, I am able to serve those who do not have a voice and to be more effective in both the professional and personal spheres of my life.
---
Ashley Cardona, MFA student
What drew me to Augsburg's MFA program was it's pacing and flexibility. I knew I needed a low-residency program, but I needed one that fit within the K-12 school calendar. I appreciate the model of one-on-one mentoring alongside group workshop and critical reading work. Additionally, I think it is important to have the out-of-genre semester to push us beyond our comfort zones and learn to write in different ways. Throughout the summer residency, I was continually impressed by the quality and variety of readings, craft talks, and sessions, and found it incredibly valuable to get to know my fellow writing cohort. Augsburg has put together an exceptional program and I'm thrilled to be a part of it.
---
Jamie Schneekloth '11 MPA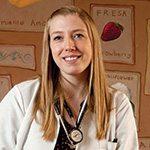 Schneekloth completed the Augsburg College PA program in three years. Current Augsburg students earn a PA certificate and a master's degree in 31 months. The program's duration is a fraction of the length of medical school, which requires a commitment of at least seven years. Like med students, Augsburg College PA students enroll in lecture courses emphasizing science and diseases, then complete 2,500 hours of clinical rotations during the second half of their education.
"The rotations are key to what makes you confident in providing quality care for a patient," Schneekloth said. "In my day-to-day practice, I manage a number of acute and chronic conditions such as diabetes, high blood pressure, asthma, and I focus on preventive health. I perform procedures as needed, such as joint injections and laceration repair."
---
ADULT UNDERGRADUATE
Kari Sackett '10, Education major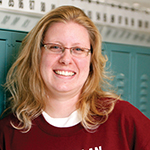 I like working with kids and originally went to Augsburg to get licensure in special education. I enjoyed the instructors. They are from Rochester and are teaching in the school system. They provide good insight into teaching. The class schedule works for a mom like me. It allows me to work, go to school, and have a family—to do it all. Growing up, I struggled as a student and really want to be able to help kids. That's why I wanted to be a teacher.
---
Anne Nichols '13, Business Administration major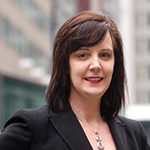 Augsburg has become a family for me. I have grown as a person, developed relationships, and gained more than I ever thought I would. I liked that Augsburg classes are small, which gave me the opportunity to network and build personal and professional relationships. Every student is there to support one another, and we really cherished our one-on-one interactions with each other.
---
TRADITIONAL UNDERGRADUATE
Trent Anderson '12, Accounting, Business Administration and Economics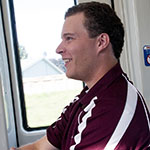 It was an Augsburg alumnus and former baseball player who introduced Anderson to his first employer CliftonLarsonAllen, one of the top 10 accountancy firms in the United States, where he is now a certified public accountant and assurance associate. Anderson benefitted from the College's small-school experience, where it is possible to develop meaningful relationships with professors, fellow students, and Twin Cities professionals. "Augsburg is about more than mastering one subject," he said. "It's about being a well-rounded student, a well-rounded individual. Now that is something I value to this day."
---
Angela Bonfiglio '13, Sociology, Youth and Family Ministry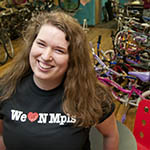 During her second year at Augsburg, the College's Sabo Center for Citizenship and Learning was able to connect Bonfiglio '13 with an organization matching her interests and studies. By the next fall, she was an afterschool program coordinator at Redeemer Center for Life, a nonprofit seeking to meet the housing, employment, and youth development needs of Harrison and North Minneapolis neighborhood residents. A few months prior to completing her degree, Bonfiglio accepted a full-time position as the director of youth programs at Redeemer Center for Life and Redeemer Lutheran Church following graduation. "I loved youth ministry classes, and sociology challenged me in a new way. The work is completely interdisciplinary," she said.
---
Alex Sorum '13, Biology, Chemistry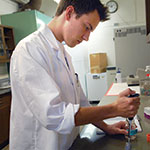 Daily tasks vary widely for Alex Sorum '13, a research fellow in one of the National Cancer Institute's chemical biology laboratories. As a double major, Sorum was quick to take part in every opportunity available to him, oftentimes combining his interests. "I always knew I wanted to go into research," he said. "The biggest benefit for me was that Augsburg professors use a hands-on approach in their teaching." Sorum satisfied his appetite for research opportunities that allowed him to gain valuable experience and strengthen his relationships with faculty mentors. The National Cancer Institute was "looking for someone with the ability to perform in this research position," he recalls. "With my past experience, I had the ability to both think critically and to problem solve. Now that's key."