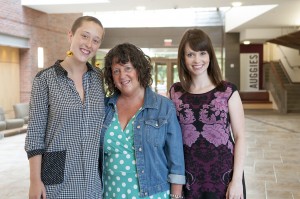 On Thursday, Feb. 26, join other parents of Auggies to chat in small groups with Augsburg's leaders from Academic Advising, the Dean's office, Campus Ministry, Residence Life, Financial Aid, and Health and Physical Education.
We'll take the "speed dating" approach as you'll meet in small groups with these Auggie leaders and have the opportunity to learn about your student's experience. Ask any question you like —no question too big or too small.
Shannon Smith, Academic Advising
Carly Eichhorst, Financial Aid
Karen Kaivola, Provost and Chief Academic Officer
Babette Chapman, Campus Ministry
Amanda Erdman, Residence Life
Carol Enke, Health and Physical Education
Chris Wallace and Sammy Coy, Augsburg Student Activities Council
Katie Radford '12, Volunteer Engagement Manager
RSVP to Sally Daniels Herron '79 by email at herron@augsburg.edu. Reservations are required by 2/20 to ensure you receive a parking pass for the event.

Thursday, Feb 26
Oren Gateway Center, Room 100, 7-8:30 p.m.