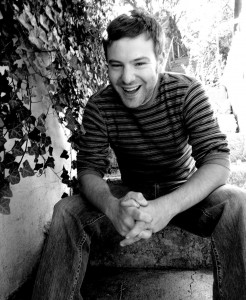 For Jay Matchett '08, '13 MAL in his current job, all the pieces have come together. His long-held interests in politics, sociology, and human rights have coalesced into a vocation that couldn't feel more right. Since he took on the directorship of Our Neighbors' Place, a multipronged social service agency in his hometown of River Falls, Wisconsin, he feels he can convincingly say: "This is where I'm supposed to be."
Our Neighbors' Place is an organization Matchett watched grow from its infancy to serve a great need in for people who found themselves homeless or in need of transitional housing.
"It's been exciting, exhilarating," he says, of his four months as director, serving his community and engaging the complex issues surrounding poverty and homelessness.
Drawn to Justice
His attraction to social justice was born early and instinctively. A lifelong passion to do something about the cause of poverty began as a child. On a trip to Tucson, he saw an older person pushing a shopping cart alone on the sidewalk. He couldn't understand why that would ever happen. He never forgot it.
His mother was a teacher, and he would volunteer in her classroom. There, he saw that not all kids were equipped for school—they were hungry or didn't have boots in the winter.
As a young person he knew intuitively, "This is not right."
Then, in middle school, as part of his preparation for Confirmation, he spent a night and served a meal at a homeless shelter. Even in that short time at the shelter, he saw that they had more in common than differences. "They like the Packers; they're just like us," he remembers thinking. "That just changed my world."
And the idea started to germinate: How can I make things better for folks? In college, he was drawn to sociology and political science because he wanted to change things.
Experiential Education Lays a Foundation
When he was a senior in high school in River Falls, Matchett didn't know Augsburg existed. He applied to "all the usual suspects" in Twin Cities colleges, and found himself waitlisted at Macalester before a social studies teacher recommended he look into Augsburg.
"I Googled it," he says, and he was intrigued. Before too long, others started recommending Augsburg to Matchett.
With a learning disability in math and ADHD, he was looking for a school that would have support and infrastructure to support his education. He was encouraged by the Center for Learning and Accessible Student Services (CLASS) office here, and knew he might be eligible for a scholarship.
Overall, he was drawn to "a really cool mission that was giving people an opportunity."
In his first year at Augsburg, Brian Krohn was his roommate. He had friends in StepUP®, in CLASS, and from so many backgrounds, he felt at home and enriched.
The diversity in experience adds so much to the classroom, he says.
He volunteered with Campus Kitchen and a program at Franklin Library for local Cedar-Riverside residents trying to get their citizenship. "It helped make the curriculum real," he says.
"I got a fantastic education," Matchett says, and he shared his enthusiasm at home. His brother Will is a 2013 Augsburg graduate who is currently a PhD candidate in Rochester at the Mayo.
As a sociology and political science major, he also benefited from a longstanding mentorship with Sociology Professor Tim Pippert. They worked together on an Undergraduate Research and Graduate Opportunity (URGO)-funded summer data analysis on visual representations of race in college admissions materials, which was later published in the Journal of Marketing for Higher Education.
Seeing the article published was an amazing process, he says. "I got a better understanding of the research than I could have gotten from a textbook," he says.
He explored his interest in politics as co-chair of the College Democrats and volunteering on several campaigns, he learned a lot about policy and legislation. Ultimately, he decided he wanted to focus on the issues and stay involved "on the ground."
"I think poverty and homelessness is bipartisan," he says. I think both parties are recognizing the importance of dealing with it."
After graduating in 2008, he moved to Washington, D.C., to join the American Sociology Association. But 2008 was a tough year to enter the workforce. He was laid off the following spring.
"My life plan was sort of kicked in the teeth and I didn't know what I was going to do," he says. Without a job or a place to live, he came back home to River Falls. His mother encouraged him to volunteer at Our Neighbors' Place, a facility serving the homeless that was just getting off the ground. He volunteered there for a year before beginning the Master of Arts in Leadership program in 2010.
The service-learning component to his education as both an undergraduate and a graduate student made a big impression. He found that by getting out of his comfort zone he discovered the similarities all people share. After graduating with his MAL degree in 2013, he worked in St. Paul for a year at Hamline Methodist Church as director of operations and communication. He later moved back to River Falls and continued to be involved with Our Neighbors' Place (ONP).
At Home with Neighbors
When the recession hit, River Falls lost two car dealerships, a factory, and jobs across all fields, including construction, real estate, and support services. "[Poverty] is here and it is real," says Matchett.
River Falls had no facility to care for locals who found themselves homeless. A small group of individuals and churches across all denominations pooled their resources to contribute to a day center in town, where people can do laundry, and have access to a kitchen, food storage, intake services, and a computer.
"The churches in the community are steadfast," he says. "They support us and keep the lights on," Matchett says. And in the years since Our Neighbors' Place began, it has grown to meet demand. The Salvation Army is now housed in the day center, and a community closet is self-supporting.
It co-sponsors a program to distribute 70 backpacks a week to elementary and middle school children that contains enough meals to cover them on the weekend and vouchers for the community closet.
The center also operates an emergency family shelter that houses four families for up to 90 days under case management from an employee that helps find them more permanent housing.
The growth of the center has been organic, community supported, and a fully interfaith effort. Part of Matchett's work from the beginning has been to raise awareness about poverty and homelessness. At first, locals didn't want to believe that the community had poverty and homelessness.
"I feel really happy that I have the opportunity to do what I love but also be in my hometown," he says.
He is also working to establish a partnership with Augsburg's social work program, so that ONP could serve as an internship site for current Auggies.