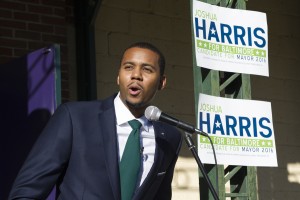 Growing up in Chicago, Josh Harris '08 hadn't heard of Augsburg before, but when Auggie Coach Aaron Griess recruited him to play basketball, he discovered a smaller school in a big city, diverse, with a sense of community—and it all appealed to him. What he ended up taking with him upon graduation, however, was beyond his expectations.
Today, Harris is working with other community leaders in Baltimore on many initiatives, including one to build a network of individuals, businesses, and organizations who can provide internships, scholarships, and mentorship opportunities for high school students, many of whom may be less than hopeful about their future. He believes that young people who have already enjoyed some level of professional success are those who can best effect change in the likelihood of success for other young people, particularly African-Americans.
Working primarily through Alpha Phi Alpha, a community-service-oriented fraternity, Harris serves as managing editor of The Sphinx, the APA's journal about what is happening in the African-American community, and how their members impact the world around them. APA has 703 chapters worldwide (both undergraduate and alumni). The fraternity is noted as historically the first inter-collegiate fraternity founded by African-American men. Harris joined while still a student at Augsburg. The fraternity claims alumni such as former Supreme Court Justice Thurgood Marshall and the Rev. Dr. Martin Luther King, Jr., and currently has eight members in Congress.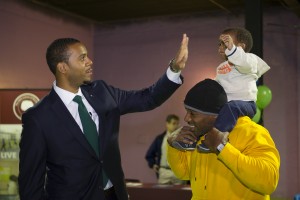 Harris says that his greatest hope for the young people in Baltimore (and beyond, for that matter) is that those who feel little sense of hope for a promising future can draw inspiration from connecting with young professionals who at one time were in a similar situation—increasingly confident that they, too, can be successful. Sometimes, he says, we "don't realize our own worth" and are not aware of the many resources available to help propel our lives to the next level.
At Augsburg, Harris was a Communications major with a strong interest in broadcast journalism. While the broadcast part of that has been put on the back burner, he certainly uses his journalism skills daily. He mentions Pastor Dave Wold ("awesome influence"), Trena Bolden Fields, and Mohamed Sallam (both directors of the Pan-Afrikan Center) as helpful Auggie mentors. Besides his B.A. in Communication Studies, he is especially grateful to Augsburg for having gained a sense of himself as a global citizen, most clearly articulated in Augsburg's mission—to educate students to be "informed citizens, thoughtful stewards, critical thinkers, and responsible leaders." He thinks Augsburg really lives that mission statement, and those ideas have definitely helped shape his thinking.
Though he had been offered various positions in Minneapolis after his Augsburg years, he felt drawn to the service opportunity through APA in Baltimore, so he moved east. The more he has worked in the area of philanthropy, the more he has come to realize that policy could better aid in providing opportunities for citizens of Baltimore—and could change the narrative in the city. As a result, he has decided to throw his hat in the ring and run for mayor of Baltimore. He made his formal announcement in mid-November. Committed to building Baltimore and creating solutions to many of the decades-old issues that plague the city, he would surely carry the essence of Augsburg's mission statement to that work as well.
—by Cheryl Crockett '89