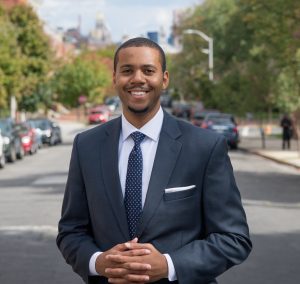 Joshua Harris' life and work in the last ten years of his young career have been devoted to public leadership, building connections and making a difference in his community.
As one of Joshua's nominators, Saint Paul Mayor Melvin Carter says, "When I think of Joshua, it makes sense that he is an alumnus of Augsburg, as he truly lives the mission of being an informed citizen, a thoughtful steward, a critical thinker, and a responsible leader."
Joshua is the co-founder of the Hollins Creative Placemaking, a non-profit fostering urban revitalization by including the use of art and the creative processes. He sits on the board of the Charles Village Urban Renewal Project, Pauls Place Community, Baltimore's Promise Mentoring Task force and Baltimore's Southwest Partnership.
Joshua ran for Mayor of Baltimore in 2016 becoming the youngest person ever to run for mayor. He ran as a Green Party Candidate and in a one party town Josh took 10% of the vote, more than any third party candidate in history. He is dedicated to creating attainable solutions for the challenges Baltimore and similar urban cities face around the nation.
Joshua is a brand and communications expert and currently is a Deputy Director of Communications for a national women's reproductive rights organization where he monitors policy and guides communication strategy for more than a dozen state chapters and affiliates.  He also sits on the board of directors for the NAACP Maryland State Conference and the Downtown Baltimore Family Alliance. He has previously worked for an international non-profit that provides mentorship and scholarship opportunities to young African American boys and men and is the former director of communications for Black and Brown People Vote. Joshua has been a featured speaker on urban renewal and education disparities at the "Imagine America Conference" and the "Congressional Black Caucus Foundation Annual Legislative Conference". Joshua is has a passion and commitment to empowering people and for progressive policy solutions.
Continuing to stay active in his community, Joshua is currently running to be the delegate for District 40 in Baltimore, Maryland.
While attending Augsburg University from 2005 to 2008, Joshua played basketball, was on student government, was a residence life advisor, an active member of Alpha Phi Alpha Fraternity, and the Co-chair of The Pan-African student Union for two years. Joshua majored in communication studies with a double emphasis in broadcast journalism and marketing, and a film studies minor.
As a communication studies major, Harris learned the theory and skills to create sound public policy, argue effectively for meaningful change, persuade diverse audiences. In true Augsburg fashion, Harris has channeled his education and professional experience to reduce inequity and fight for social justice as a responsible, informed, and active citizen leader.