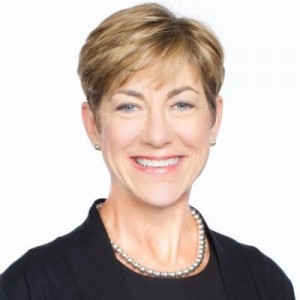 As one of the first 30 employees at Rollerblade, Inc., Lisa Svac Hawks '85 was tasked with producing some of the first competitive in-line skating events across the U.S. to showcase the "blades." Though she had never run a race, her job was to put people on skates, help them get in shape, and encourage them to have fun. She was part of the team that drove in-line skating into the cultural forefront as one of the fastest-growing sports of the time. When she and some ex-Rollerblade execs later launched and marketed "snow skates" in the U.S., these Sled Dogs caught on and were featured in a Newsweek story. The exposure and marketing resulted in Hawks' traveling to the 1994 Winter Olympics in Lillehammer, Norway, to work with the Norwegian Military Ski Team that would put on a dramatic display of the snow skates during Opening and Closing ceremonies.
This marketing success convinced Hawks that she had found her niche in marketing and communication, and that her decision to forego the field of broadcasting—even after an internship at the local ABC-TV station—was the right one for her. At each step in her career since then, new positions seemed to call out her desire to "build" something—whether in terms of products, experiences, relationships, a fine-tuned team, or an unusual market launch. She loved finding undiscovered opportunities, using good communication tools, and assembling a good team—and she still loves the challenge and fun of doing it.
She uncovered such an opportunity at Paper Direct, a high-end specialty paper company, where she was given 45 days to convince the leadership that her alternative idea to existing market launch plans could work. She did so, and the company followed her lead toward specialty retailing to small businesses, setting up distribution networks all across the country at outlets that sold computers and printers.
Hawks later landed at Musicland, where she led the full gamut of communications—investor relations, public relations, employee communications, earnings releases, annual reports, investor reports, etc. Soon after, when the company was acquired by Best Buy, she was invited to take a leadership role in Best Buy's communications department. She enjoyed some "phenomenal" experiences over the 12 years she worked there, including launches that involved The Rolling Stones, Bill Gates, Usher, and other pop culture figures.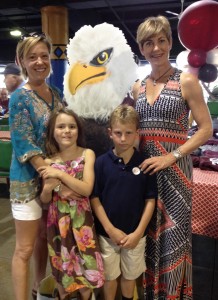 Asked often about her management style, Hawks believes it can best be described as coaching, stemming from her experience at Augsburg. She says Augsburg was a fabulous place to play sports, and she feels lucky to have had excellent coaching from Marilyn Florian and Mary Timm, and to have played with driven student athletes who performed beyond what they thought possible. Hawks was a three-time All-MIAC pitching selection in softball, earned AIAW All-State and All-Region honors twice, and All-West Region honors. A member of the team that won the Minnesota AIAW state softball title in 1982 and 1983, as well as MIAC championships in 1982, 1983, and 1984, Hawks holds the second-best record in Augsburg history for both her 1.35 career earned run average, and for her 47 pitching wins. In volleyball, she earned All-MIAC honors in 1984. She served as captain of both teams and was named Augsburg's Honor Athlete in 1985. Appropriately, she is a member of the Auggie Athletic Hall of Fame.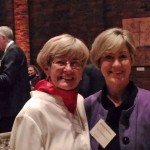 Hawks recalls—with some relish—the determination of Athletic Director Joyce Pfaff '65 to create opportunities for female athletes. "She fought hard for program development and funding," says Hawks. Since the women's teams had no analog to the men's A-Club, Hawks proposed to Pfaff—and Pfaff agreed—that the softball team could raise money to fly south for softball games against teams in different leagues and divisions. The team raised funds by various methods, including staffing Metrodome concession stands for numerous events, such as professional wrestling contests and concerts. It worked, and theirs was probably the first Auggie women's softball team to "have a spring break game in the sun."
Hawks sees the College as a "pillar of faith," one of the reasons she chose Augsburg and why she continues to be involved. She served six years on the Alumni Board and is a founding member of AWE (Augsburg Women Engaged). She recalls hosting one of the first focus groups in her home to ascertain what form AWE could take. She and other founders discovered that the wishes were as varied as the people who attended—yet very specific. Some wanted to give back, others wanted to help students, others wanted to connect and donate money or time. AWE has opened the door to all sorts of involvement, and women may opt in as they see fit.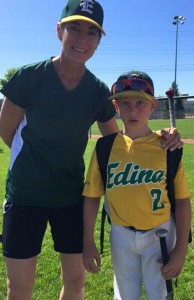 Currently, Hawks is vice president, external communications, for United Healthcare, where she feels her retail experience is serving her well. She is focused on helping simplify the complicated healthcare landscape for the consumers so that they can live healthier lives.
In her spare time, Hawks enjoys gardening, cooking, and playing golf and other sports. She also enjoys coaching her 10-year-old son Andrew's baseball team, which she has done for the past three years.
Hawks' corporate success is likely related to her love of confronting a challenge, and she offers three insights that have guided her: (1) Find something you care about and see where you can contribute, (2) Surround yourself with people from whom you can learn (she benefits regularly from her "Board of Mentors"), and (3) Lead with humility and integrity, and then be proactive about using what makes sense to you. Apparently, that has worked very well for her!
—by Cheryl Crockett '89