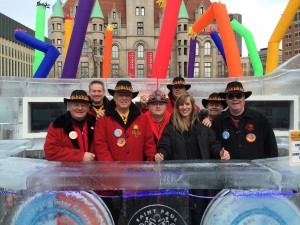 If you were planning a pull-out-all-the-stops, 10-day, outdoor party in January for thousands of your friends, where would you hold it? The Caribbean? Arizona? Of course not! You'd plan it in St. Paul, Minnesota! And you'd call it the St. Paul Winter Carnival.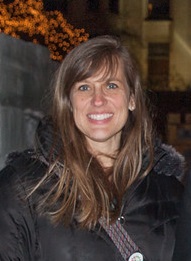 Planning events like the St. Paul Winter Carnival is what Rosanne Newville Bump '92 does for a living as President and CEO of the Saint Paul Festival & Heritage Foundation—with support from the community, of course—and from plenty of volunteers, who work tirelessly behind the scenes. Honored to be part of the festival's history, Bump loves brainstorming regularly about what "fun factors" to add to the next year's event. For example, this year's event included three parades, a half marathon, an ice- and snow-carving competition, the country's largest jigsaw puzzle competition, and an outdoors Birthday Bash in Rice Park to celebrate the festival's 130th birthday. As part of the fun, Bump partnered with Kemps Ice Cream to provide Birthday Cake Ice Cream samples for all attending. In addition, this year's festival included a performance, also in Rice Park, by roots-rock band GB Leighton. Standing outdoors on a lovely winter evening with 1000+ others, singing along with the performers, near the ice castle and sparkling trees (all lit), was "magical," says Bump.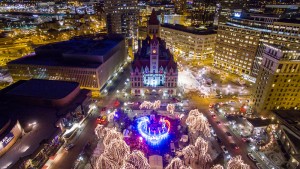 Bump has learned that, each year, about 20% of the carnival plans are unlikely to go as planned, primarily because of unpredictable weather, so she and her colleagues need to figure it out as they go, making for "some adrenaline-filled days." Unusually warm weather leading up to this year's event meant that, in order to build the ice palace (this year, a mini version), ice had to be purchased, instead of harvested from local Lake Phalen. Even so, the palace still included the king's chair, a light show, and TV monitors.
In addition to the Winter Carnival, Bump also plans the Cinco de Mayo event on St. Paul's West Side, which has a 35-year history. The festival—which celebrates the Mexican army's unlikely victory over French forces in the Battle of Puebla on May 5, 1862—includes a Mexican marketplace that features artists from the neighborhood, a parade, and multiple entertainment stages, with different kinds of music and beer—and margaritas, of course. This year's event is scheduled for Saturday, May 7, near Robert and Cesar Chavez Streets, right in the heart of the Latin@ business district.
Bump earned her degree from Augsburg in Management Information Systems, and early in her career she spent 10 years as a computer programmer. Grateful that her liberal arts education exposed her to ideas/topics that she wouldn't have otherwise thought about, she says Augsburg College was a great choice for her, and she went on to earn her MBA from the University of Wisconsin-River Falls in 2010. She has stayed in touch with many of her Auggie classmates over the years, and is particularly pleased that both the St. Paul Winter Carnival and the Cinco de Mayo organizations benefit from the help of Augsburg interns as they plan their events.
Bump lives with her husband of 28 years, Jeff Bump '85, and their three daughters (Madelyn, Ella, and Julia) in River Falls, Wisc., where she served for nine years as CEO of the River Falls Chamber of Commerce and Tourism Bureau. In that position, she organized events like the River Falls Roots & Bluegrass Festival, River Falls Days, and various other community events. She sits on multiple nonprofit boards and is currently president of the River Falls Rotary Club.
—by Cheryl Crockett '89