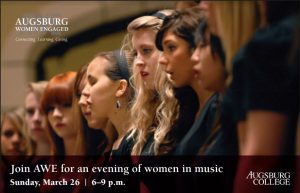 Join the Augsburg Women Engaged (AWE) Philanthropy Council for an evening of choral music by, for, and about women!
Nancy Grundahl will lead the Augsburg College Riverside Singers in the annual WomanVoice: Voice of Hope choral concert. Women's choirs from around the area, including the University of Minnesota Women's Choir and Encore! of the Twin Cities Women's Choir will join hearts and voices to sing music by, for and about women.
Sunday, March 26, 2017
6-7:15 p.m.    Pre-concert reception sponsored by AWE
                        Oren Gateway Center lobby
7:30-9 p.m.   Voice of Hope choral concert
                        Hoversten Chapel, Foss Center, Augsburg College
Space is limited. Parking permits will be provided. RSVP by March 20 to Becky Waggoner, Alumni Relations Program Coordinator, at 612-330-1085 or waggoner@augsburg.edu.
About the Riverside Singers
The Riverside Singers, directed by Nancy Grundahl, carry on the long tradition of treble choirs at Augsburg College. The singers participate with other Augsburg musical organizations in the annual Advent Vespers each Christmas season at Central Lutheran Church. Participating in chapel services several times during the year is an important part of the choir's mission, as is hosting an invitational treble choir festival each fall.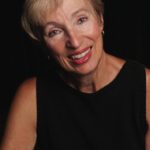 About Nancy Grundahl
Nancy Grundahl is a conductor, composer and soloist and holds vocal performance degrees from St. Olaf College and the University of Minnesota. In addition to her position with the Riverside Singers of Augsburg College, she is the conductor of the Angelica Cantanti Concert Choir, a youth choir based in Bloomington, Minn. and is the Director of Music at Mayflower U.C.C. in Minneapolis. More than sixty of her arrangements and compositions for choirs have been published by Kjos, Hal Leonard, Augsburg Fortress, Alliance, and Santa Barbara music publishers. She conducts honor choirs throughout the upper Midwest and is active as an adjudicator, clinician, soloist, and guest conductor.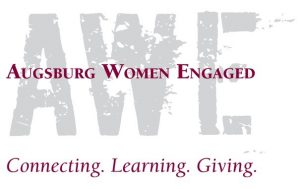 About the Augsburg Women Engaged (AWE) Philanthropy Council
The AWE-Inspired Philanthropy Council was created in 2015 to function in an advisory and support capacity to Augsburg's Office of Institutional Advancement. Our goal is to strengthen the culture of philanthropy among Augsburg women of all ages. We focus on ways to educate, engage and celebrate Augsburg's alumnae donors and women in the community.
AWE-Inspired Philanthropy Council: Shelby Andress '56; Debby Crowley '76; Rachel Engebretson '98; Lisa Latham '83; Joni Marti MAL '05; Lori Moline '82; Kris Pearson '78; Cindy Sisson '83; Danielle Stellner '09; and Lisa Zeller '81, MAL '89.