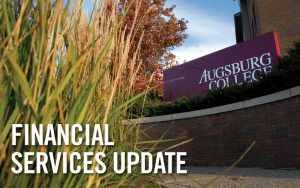 Registration for the spring term is now open. Students who have unpaid fall charges or are not up-to-date on their payment plans will be unable to register.
All spring tuition and fee charges are due by January 9, 2017; any remaining balance after that date is subject to finance charges. Spring 2017 billing statements will be electronically sent to all registered students on December 8. Students will have reminders sent to their Augsburg email account during the first week of each month reminding them to view their online monthly bill.  All students are encouraged to give parents/guardians access to view these statements.
All students are eligible to enroll in Augsburg's Online Payment Plan; enrollment opens December 8. Go to augsburg.edu/studentfinancial/payment-plans-and-discounts/ to sign up for the payment plan. To ensure five monthly payments, the application must be completed by December 26.
Students can make payments online by going to  augsburg.edu/studentfinancial/payments/. Please see the Parent Information tab at  augsburg.edu/studentfinancial/ for instructions on making a payment, signing up for a payment plan, and obtaining access to discuss your student's financial information. Please note that we will be unable to speak with any parent/guardian that has not been authorized by the student.