Auggie Friendships Forever
Mike Scott '71 admits that talking about friendship isn't his strongest point, but he's more than happy to acknowledge that his Augsburg friendships were the best part of his Augsburg experience. Mike and four of those Auggie friends—Larry Stewart '72 , Tim Casey '71, Mike Good '71, and Bruce Santerre '71—have maintained communication since graduation, and their friendship has survived the test of time. As a group of five, the men have put a priority on keeping in touch; they have celebrated marriages together, consoled each other in difficult times, and gotten to know each other's children. As far as friendships go, these men share a connection so strong they consider themselves 'almost' family.
When Four Became Five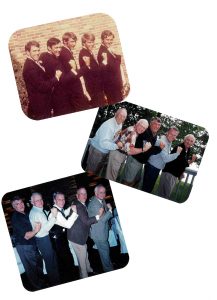 In the fall semester of 1967, the academic year was pushed back for a short period of time to accommodate the completion of Urness Tower. All non-commuting football players were accommodated in Memorial Hall until the semester started and they could be placed in permanent residence halls. It was there that Mike Scott met his very first college roommate, Larry Stewart, as well as Tim Casey and Bruce Santerre, who roomed next door. Besides playing football, the men shared another common thread; they were all from rural out-state. The four men connected as teammates, as neighbors, and by their rural upbringings—and they became friends. When the fall semester eventually started, the four were moved to Mortensen Hall where they would be living on a full-time basis. As chance would have it, on moving day Mike Scott encountered a familiar face and an old acquaintance, Mike Good. The young men had met years earlier through coincidence, when Mike Good was visiting family in Mike Scott's hometown of Renville.  If this was not surprising enough, the men discovered that Mike Good had been assigned to be Tim Casey's roommate. This sealed the deal; the initial group of four quickly became five and a friendship blossomed that would span the course of the rest of their lives.
Say Cheese
As the delayed academic year trickled into summer, on one lazy afternoon when they were feeling bored and desperate for entertainment, the five men, along with some fellow Mortensen Hall buddies, decided to take a hilariously posed photograph where they flexed their arm muscles or "guns." Little did they know at the time that this photograph would be the start of a picture-taking tradition that would mark the significant times of their lives, like weddings and reunions.
Throughout college, the five either lived together, or within one house of each other. As life took them on their individual journeys, they continued to support each other and strengthen their friendship.  From babysitting one another's children, to taking on important duties for each other (Larry is the godfather of Mike Scott's son, Kelley), to incorporating spouses and 'special' friends – their friendship has never wavered.
Today, although the friends are not physically together (due mainly to career paths that led each to his own location), the group continues to share an incredibly strong bond. At the 2017 Augsburg University Homecoming in October, the five men reunited for another photograph. Although time has changed the faces in the photographs, the deep friendship of these funny freshmen who were inspired by boredom to take a silly photograph in 1968, lives on.