Many adults would likely freeze in place if asked to teach a middle school class, much less try to interest those students in theater. Then there are those special people for whom such work just comes naturally. Ertwin "Ert" Jones-Hermerding '69 was such a person.
Ert's Augsburg mentor, the late Ailene Cole (who taught theater at Augsburg for 29 years), saw it early on, insisting that his talent was definitely with the younger kids—the high-schoolers, sure; but more so, the younger ones. It was at Augsburg that Ert knew he wanted to be a teacher.
Football and Theater
When Ert found an opening for a speech teacher at Plymouth Junior High in the Robbinsdale, Minn., school district, he jumped at the chance because it gave him the opportunity to also coach football. As a speech/communication teacher and football coach in Robbinsdale for 34 years, Ert endeared himself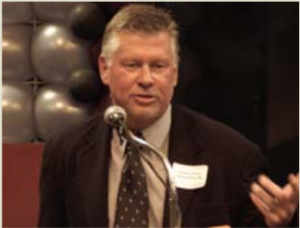 to countless junior high (middle school) and high school students, and many of them went on to pursue interesting professional careers due to his strong influence. His students included Darcey Engen '88 (Theatre Arts professor at Augsburg), Mad TV's Mo Collins, and actor Steve Zahn, who once donned a curly wig in junior high and did a memorable, gut-splitting impersonation of TV exercise personality Richard Simmons.
"Herm," as he was affectionately known by his students, found ways to interest athletes in the drama program, and speech students in the football program, increasing the pool from which to draw and surprising many students who may not have otherwise considered such involvement.
Herm was, most notably, the first to teach improvisational theatre at the junior high level, creating a new model that was replicated in many other schools. When he died suddenly in a one-vehicle motorcycle accident two years after retiring, the online posts from former students said it all—"Brought me out of my shell." "Favorite teacher." "Made learning fun." "Creative and passionate." "I was fat and unpopular…he cast me in the lead…he lit me up." "Great mentor to so many kids."
Herm's students would often sit together at school lunch to write their own plays. With parental permission to miss some school, they would crowd into a conversion van to take their shows to local elementary schools. Using only milk crates as sets, and maybe a mic for the narrator, they often drew huge groups of youngsters.
When asked how her late husband came to have such a heart for young people, Pat Jones-Hermerding says she isn't sure how you can understand what's at someone's core, but she knew Ert had found his calling. He opened up his ideas to his students, and he had the kind of personality to which they gravitated—a big personality that could take over a room. Everything became a story, says Pat, and it usually grew into an even bigger story. He was energetic and funny—and fit right in with the kids. She takes special pleasure in reminders of Ert's legacy, particularly when encountering former students who have gone into theater, or played sports for a college, or become teachers.
The Apple Tree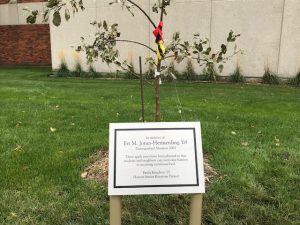 In October, when more than 20 family members and friends of Ert gathered next to Foss Center to dedicate a young apple tree in his memory, those attending were unaware of the tree's interesting history. They were just grateful for the tree's healthy start, and for the opportunity to designate a different tree on campus since the tree they had originally dedicated to Ert's memory in 2009 had become diseased and died.
The history of the replacement tree, they later learned, was tied to Augsburg student Emily Knudson '15, who had planted three apple trees as part of her senior Keystone p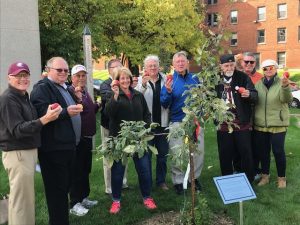 roject. With this project, and through the Minnesota Project's Fruits of the City program, Knudson was able to enter the network of hundreds of other tree owners and volunteer gleaners statewide who donate tens of thousands of pounds of fresh fruit each year to local food shelf partners. The newly placed plaque by the tree honors both Knudson's project and Jones-Hermerding's memory.
The Auggie Friendships
Among those who gathered at the tree's dedication were two of Ert's long-time Auggie friends, Glen J. Peterson '69 and Karl Sneider '71. All three had been members of Gamma Phi Omega, a campus/community service fraternity active on campus in the late '60s and '70s. Though participation in athletics was not a requirement for membership, many Gammas were involved in sports, which served to deepen many of the friendships. Peterson says that he and Ert were dorm mates as freshmen, and decided to join a third friend to live in a house by Riverside Park for their remaining three years. Peterson chuckles as he recalls that, since there were only two beds in the house when they moved in, Ert was content to sleep temporarily on a mattress on top of the kitchen table.
As Peterson reflects on those college days, he is reminded of how diligent a student Ert was, studying long hours for his language course. He was introspective, hard-working, and intense—in the best sense of that word—and those qualities applied to all areas of his college life: academics, football, track, and theater. He also exerted outsized influence in the life of his young brother, Mike.
If Peterson were to summarize Ert's legacy in a few words, "integrity" would quickly come to mind. Ert was honest and trustworthy, says Peterson, and dedicated as an educator and as a person. Then he adds, "People would strive to be like him because Ert was adamant about caring about people."
—by Cheryl Crockett '89