The Norman and Evangeline Hagfors Center for Science, Business, and Religion hosted its grand opening ceremony in style on Saturday, January 27, 2018. Approximately 1000 guests attended the celebration, which included a ribbon-cutting ceremony, remarks by President Pribbenow and Campaign Chair Mike Good '71, live music, gourmet food stations on each floor, and exclusive access to many parts of the new, four-level building. Some of the Hagfors Center artists who contributed to the Art and Identity campaign also attended and were available to discuss their artwork in detail with attendees. Minneapolis Mayor Jacob Frey joined the celebration and expressed his admiration for the building.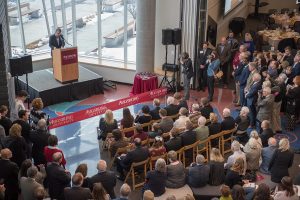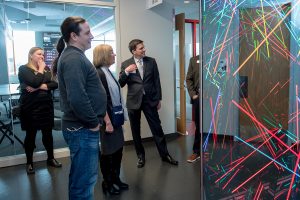 The open house began at 3 p.m., and guests were able to visit a multitude of classrooms and laboratories, where they could view the impressive state-of-the-art communications and scientific equipment, and participate in a variety of activities, including liquid nitrogen ice cream tasting, a chemical instrument tour, and a fruit-leather-making demonstration.
 Dr. Peter Agre '70 was celebrated with placement of a replica of his Nobel Prize award just outside the suspended Hagfors Center Gundale Chapel. A number of other people who have been integral in making the Hagfors Center a reality were also celebrated with mini-receptions throughout the building.
Guests had plenty of opportunity to socialize with alumni, staff, donors, and other friends of the College, while enjoying the gourmet food stations, which included a fresh vegetable-and-dip platter, a build-your-own macaroni cheese stand, and a delectable dessert station.
The event was a resounding success, and a good spirit prevailed among all who came to celebrate Augsburg University's newest building.