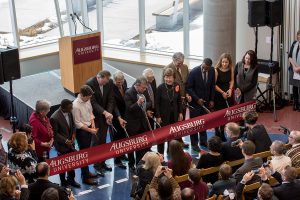 The Norman and Evangeline Hagfors Center Grand Opening reception cultivated the feeling of excitement with a formal ribbon cutting ceremony. The ceremony took place at 12:00 p.m. on January 27th, in the Hagfors Center Kennedy Learning Commons.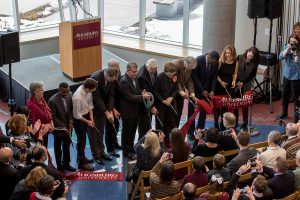 President Paul Pribbenow was joined in cutting the ribbon by the Hagfors Center Campaign Chair Mike Good, Board Chair Jeff Nodland, Provost Karen Kaivola, Student Body President BK Kormah, Student Body Vice President Francesca Chiari, Mayor Jacob Frey, City Council member Abdi Warsame, County Commissioner Peter McLaughlin, Alumni Board Member t Lori Higgins, and the eponymous Norman and Evangeline Hagfors.
Mayor Frey welcomed everyone to the building with remarks regarding his hopes to build connections to unify all citizens of Minneapolis. President Pribbenow offered thanks to every individual (including the 1,200 plus generous donors) who helped to make the Hagfors Center a reality and also discussed the promise of learning, development and student engagement the new building will present. Hagfors Center Campaign Chair, Mike Good, expressed his delight in leading such a successful campaign and the support received from "an army of believers" that created said success.