Beth Florence '08 was an Augsburg golden girl, from a family filled with Auggies, with a glowing reputation as both a campus leader and a hard worker. Florence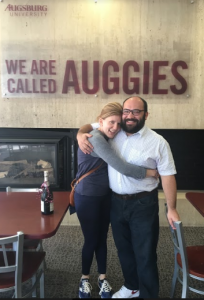 , a Spanish major, made such an impact in her time at Augsburg, she received the Marina Christensen Justice Award for her civic engagement when she graduated. Florence later attended the Georgetown University School of Nursing and Health Studies.  She is currently employed at Suburban Hospital in Bethesda, Maryland.
Aaron Wells '08 was recognized around campus for being incredibly funny.  In addition to writing many hard-hitting stories for The Echo, he also penned the popular, joke, horoscopes which caught the eye of Florence ("I just thought they were hilarious").  Wells balanced his love of fun, by working hard and completing his Political Science degree in 2008.
He later attended Washington and Lee School of Law and is a partner at STG, a policy and public affairs consulting firm.
Wells and Florence were introduced eventually through a mutual friend and developed their own friendship at Augsburg. This friendship eventually blossomed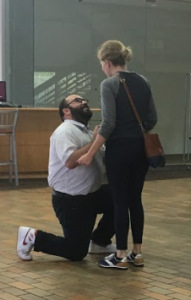 into a romantic relationship in 2013.
When the time was right, Wells knew the perfect location for the proposal to Florence was the Christensen Center on August 12, 2017.  She said yes! The couple now live together in Washington D.C. and they embody the true spirit of Augsburg both individually and as a couple.
"All we do, we credit to Augsburg," they agree. "We credit our strong moral and personal compasses to the time we spent at Augsburg. Nothing else measures up to it." Both Wells and Florence acknowledge that the time and effort they spent searching for perfect jobs stemmed from the emphasis on vocation at Augsburg. They are both in careers that are service focused and continue to serve the community around them.
Augsburg University wishes Wells and Florence all the best for the future, and we are touched that Augsburg University has played such an integral part in their story.
Both Wells and Florence will be attending our exclusive regional alumni event at the National Museum of African American History and Culture on Sunday, May 20, 2018, in Washington D.C. We invite you to join Augsburg, President Paul C. Pribbenow, members of Augsburg staff and Wells and Florence for this evening of exciting conversation and connections. For more information on this event click here.