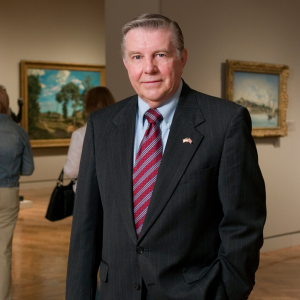 By following his family's values of faith, dedication to building community, and applied philanthropy, Orville "Joe" Hognander has improved the lives of many.
Joe has deep Augsburg roots that extend back over 100 years to when his grandfather, Rev. Lars R. Lund, graduated from Augsburg Seminary in 1912. Later it would be at Augsburg where his parents first met during their freshman registration for the class of 1936. During their Augsburg years, Gertrude Lund and Orville Hognander shared their love of choral music through the newly created Augsburg Choir, where Orville became the first announcer and business manager and Gertrude was the piano accompanist. Of note, Orville created a weekly radio show on WCCO called the Hour Melodious, which featured the choir with Orville providing the spoken word. He also arranged the choir's first tour of 20 concerts throughout the Midwest.
Fellow Augsburg classmates remained lifelong friends of the Hognander family. Leland Sateren '35 was best man at Orville and Gertrude's wedding and went on to become a prolific composer, director of the Augsburg Choir, and chairman of the music department. Likewise, Oscar Anderson '36, became Augsburg's president from 1963 to 1980. It was during his tenure that Gertrude received Augsburg's Distinguished Alumni Award in 1973.
After graduating from high school, Joe Hognander left the Twin Cities for college, graduate school, and work. While employed by Black & Decker in Dallas, Texas, he received notification from his draft board that he would soon be called, so he immediately applied for Naval Officer Candidate School and was accepted. While on active duty, he had varied and challenging assignments including one as head of the translation division for the U.S. military command located in Saigon during the period just prior to the withdrawal of all military forces from Vietnam.
Following retirement from the Navy, Joe returned to the Twin Cities, where he cared for his parents during their final years. Part of this assistance involved helping his parents fulfill their philanthropic interests, which included support of institutions and organizations that had been significant in their lives. The Orville and Gertrude Hognander Endowment for music students was a direct outcome of this.
Today Joe conscientiously carries on the family tradition of support for work in the arts, sciences, music, charity, and education. As one person noted, "He has the heart of a philanthropist and the head of a businessman." Scores of organizations doing good work have had their public service magnified because he approaches needs in the community with an Auggie spirit of responsible leadership and stewardship.