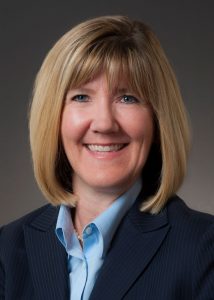 Brynn A. Watson '89 is an award-winning leader in the aerospace industry, nationally recognized for her technical expertise, executive leadership, and advocacy for STEM education. She currently serves as Lockheed Martin's vice president for the Future Enterprise Program overseeing the corporation's transformational digital technology operations.
In her nomination letter, the Augsburg Women Engaged (AWE) Council said, "Brynn's accomplishments during her career at Lockheed Martin stand for themselves. We are so proud to see an Auggie woman pioneering for other women in STEM."
Watson earned a Bachelor of Arts degree, summa cum laude, in mathematics from Augsburg University and a Master of Science in applied mathematics from the University of California at Riverside.
In prior leadership roles at Lockheed Martin, Watson was vice president of Navigation Systems Operations and deputy for the Global Positioning System (GPS) III program for Lockheed Martin Space. GPS III is the U.S. Air Force's next-generation program improving position, navigation, and timing services to all users.  Before that, she was vice president of an engineering organization in the Space line of business leading more than 5,300 engineers, responsible for personnel management and development, engineering and technology strategy, engineering processes, tools and training, and product technical validation. Prior to that assignment, she served as director of software engineering, responsible for the execution and strategic direction over 1,200 software engineers; leading a strategic initiative focused on maximizing digital integration and end-to-end system modeling. Additionally, she served as director of engineering, collaboration, and operations for Corporate Engineering and Technology, and deputy to the vice president of Engineering.
Watson began her aerospace career as an engineer at Aerojet Electronic Systems in Azusa, Calif., where she held positions in a variety of systems and software engineering areas.
Watson is a member of Women in Aerospace, the American Institute of Aeronautics and Astronautics, and the Lockheed Martin Women's Impact Network.
She has been recognized for her leadership, receiving the 2013 Lockheed Martin Space NOVA Full Spectrum Leadership Award; the 2012 Tribute to Women Honor by the YWCA of Silicon Valley; and the 2008 Lockheed Martin Space Ed Taft Diversity Leadership Award. In 2015, Watson's essay, "A Look Inside Lockheed Martin's Space-Age Operations," was published by the Harvard Business Review.
Watson's enterprising spirit and accomplishments mirror the tenacity of Auggies around the world, who, through study, experience, and hard work, ascend to prestigious positions among today's leading companies.
Watson credits her time at Augsburg as helping her to think big and believe that she can accomplish anything with hard work and perseverance. She also feels that her strong advocacy for women was built by the dedicated women she interacted with during her time at the university.