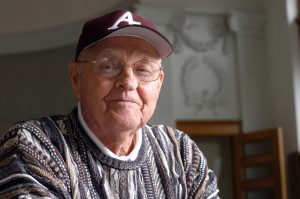 We are deeply saddened to share the news that Jeroy Carlson '48 passed away yesterday. Jeroy spent more than 60 years at Augsburg. He was a student, parent, grandparent, volunteer, alumni director, and a senior development officer for Augsburg. Known as "Mr. Augsburg," he spent much of his life inspiring, connecting, and mentoring Auggies.
Jeroy embodied everything about Augsburg and knew its history by heart. His dedication to the University was seen most in the way he connected to its students and alumni. During his long tenure here, he helped countless students get their careers off the ground by picking up the phone and calling someone he knew.
He built relationships with hundreds of people through Augsburg and raised millions of dollars to help build the chapel, library, fitness center, football field, and theater, to name just a few. Carlson's efforts can be seen all over campus and his legacy along with his wife, Lorraine, was recently honored through the dedication of the new Jeroy '48 and Lorraine Carlson Religion Department Home in the Hagfors Center for Science, Business, and Religion.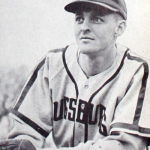 Sports were always a passion for Jeroy. He played baseball, basketball, and football as a student at Augsburg and was part of four MIAC championship teams. After graduating, Jeroy spent 15 years teaching and coaching. During this time, he served on the Augsburg Alumni Board before returning to his alma mater as the alumni director.
Our prayers and sympathies go out to Lorraine "Ainy" Carlson and their family. Jeroy was a beloved husband, father, and grandfather.
Visitation and Funeral
A visitation will be held at 10 a.m. with the funeral following at 11 a.m. on Dec. 13 at Mount Olivet Church, 5025 Knox Ave S, Minneapolis, MN 55419.