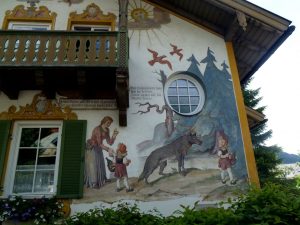 Update: If you are unable to attend the information session in person, University Events Video Streaming is inviting you to watch it via livestream. 
Join the Zoom Meeting on Wednesday, April 17, at 6 p.m.: https://augsburg.zoom.us/j/712441468
---
Auggies are hitting the road again. During the sesquicentennial year, the Alumni office will be hosting four trips to Germany and Norway. We are happy to share some information about the Germany trip that will take place on July 15-26, 2020.
This uniquely-Augsburg trip features professors Dr. Lori Brandt Hale and Dr. Hans Wiersma. Hale and Wiersma lead the Lutherland trip in 2017 and are now bringing their expertise to a trip that will include historic towns, castles, famous WWII sites, breathtaking scenery, and the world famous Oberammergau Passion Play which will have its 42nd showing. Details on the trip can be found on our alumni travel page.
Join us for an information session on April 17, 2019, from 6:30-8 p.m. in the Oren Gateway Center Room 100. Dr. Hale and Dr. Wiersma will present on the highlights of the trip, and you will have the chance to ask questions and learn more about this once in a lifetime opportunity. For more information about this trip or to RSVP for the info session please contact Katie Code '01 codek@augsburg.edu
We will also be hosting an additional info session for the Norway trips as well as the Germany Trip on May 14, 2019 at Augsburg.