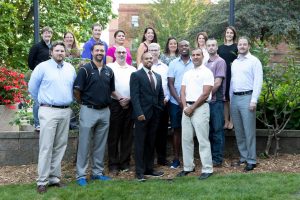 If you've ever had ideas about how to better engage the alumni at Augsburg or wanted to reconnect with your alma mater and current students, you would be a perfect candidate for our Alumni Board. Serving on the Augsburg Alumni Board is a fantastic opportunity to connect with other alumni and influence the programming we offer to our alumni, parents, and friends.
The Board allows you to become an Augsburg Insider and to build close connections with alumni from various class years and majors. As a Board member, you will regularly hear from the President and Senior Leadership. The board's ideas and opinions have also been sought around topics such as the name change to Augsburg University and our next strategic plan.
The Alumni Board is currently accepting applications for volunteers to join the board and alumni are welcomed and encouraged to apply.
The board has different committees focused on all areas of engagement, giving and more for you to serve on and focus on what you are most passionate.
To  find out more you can read the job description or contact Alumni Director Katie (Koch) Code'01 at codek@augsburg.edu
The Board's mission
The Alumni Board is a governing body of the Augsburg Alumni Association. The board exists to guide the Office of Alumni and Constituent Relations of Augsburg University in serving the valued alumni, parents and friends by providing resources and opportunities to engage alumni with the College and each other through consistent communication, inclusive programming, and intentional relationship building.
_____________________
It is the desire of the Augsburg Alumni Board that the board is well represented in regards to class years, colleges (day school, AU/WEC, graduate programs) community diversity and experiences. All applications will be reviewed in conjunction with the current make-up of the board at the time the application is received. In the event that you are not selected, your application will remain on file and you may be contacted later to gauge your continued interest.
It is the policy of this organization to provide equal opportunities without regard to race, religion, national origin, gender, sexual preference, age, or disability.