Led by Darcey Engen '88 & Luverne Seifert '85
About five years ago, I fell in love (again) with Henrik Ibsen. As an Augsburg graduate, theater artist and Professor, I've been reading his plays for over 30 years, but after re-reading An Enemy of the People, my passion for Ibsen's plays gave me a big mid-life boost.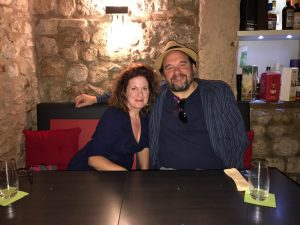 It happened shortly after hearing about the Flint Michigan's water cover-up. My husband, Luverne Seifert who is also an Auggie and a professional actor in the Twin Cities said: "do you remember that play about contaminated water that Ibsen wrote"? Sure enough, after reading our little weathered paperback version, we were forever changed. Turned out that Ibsen's An Enemy of the People had an uncanny similarity to the contaminated water problem that occurred in Flint Michigan. 
For those of you who need a little reminder, Ibsen's An Enemy of the People examines how a community responds when a local doctor threatens to expose that the water it relies upon for tourism is being poisoned. The play questions how far a community will go to protect their town's secret in order to avoid financial ruin. 
The re-read inspired us so much that we created our own adaptation and produced it. Supported by the MN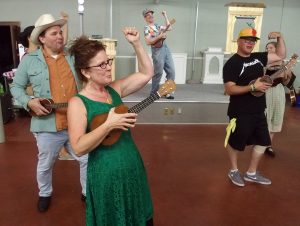 State Arts Board, our Sod House Theater Company (Luverne and my theater company we formed in 2011) has performed our unique bluegrass music-infused adaptation to over 15 communities in greater MN. 
Our renewed love of Ibsen also spurred our interest in traveling to Norway in order to experience not just Ibsen's artistry but all the arts that Norway has to offer!  We are so delighted to be asked to lead the 150 Sesquicentennial Norway Arts & Culture trip in May 2020! Both Luverne and I, as Augsburg Theater graduates ('85 and 88'), find it so meaningful to have the chance to explore our institution's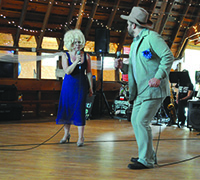 origins. Both Luverne and I had life-changing experiences at Augsburg—we, like you, had professors that significantly influenced who we are today.  We're humbled to be leading this trip, for Augsburg, together. Full circle. 
We'd love for you to join us in experiencing all of the amazing activities we have planned in Norway! We'll visit The National Theater, the Ibsen museum, the incredible Opera House that seems to emerge from the ocean, The Viking Ship Museum, a Stave Church and celebrate Syttende Mai Festival! Come join us in the land the inspired one of the greatest playwrights of all time.